She plans to govern until she falls out of her slippers, the good-humored monarch recently quipped at a press conference. Asked whether age had its advantages, Queen Margrethe II replied: "The experience is different to before, when you are young and doing everything for the first time."
Even if she no longer can pursue her favorite sport, cross-country skiing, everything is otherwise ticking along well according to the Queen.
And now the much-adored monarch Margrethe II, Queen of Denmark, is turning 75 years of age - an event which is being celebrated with gusto throughout her native country over more than a week. "We in Denmark like to celebrate a great deal," she said.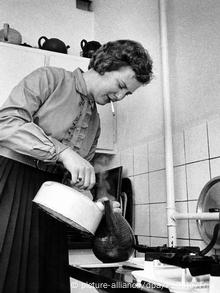 The young Princess Margrethe as a student in 1960
On Wednesday the Queen celebrated with her subjects in Aarhus with a carriage ride through the streets, where she waved to the adoring masses - and enjoyed coffee and cake at a birthday gala. On Thursday April 16, the day of her actual birthday, she will enjoy a family feast.
One of us
Margrethe doesn't care too much for conventions. She presents herself as a populist monarch, and is considered to be one, too. She chain smokes - whether at dinner, in the concert hall or even in her retirement home while hooked up to her asthma-station. No one seems to mind.
For official parades, Margrethe likes to wrap herself in sweeping robes and brightly colored clothes, and keeps an extensive hat collection.
Her sense for beauty has always been well defined, and as a young girl she had keen interests in painting and archeology.
The young Princess Margrethe was not always destined for the throne. The last time a female monarch had ruled Denmark was more than 500 years ago, and her father King Frederick IX had to alter the laws of succession to the throne in the absence of a male heir. At the age of 13 it became clear to Margrethe that she was destined to be Denmark's next monarch.
The once-frivolous girl with an interest in music and "nonsense" was soon whisked off to the best universities of the world to get a serious education in economics, history and law, including stints at the Sorbonne and Cambridge.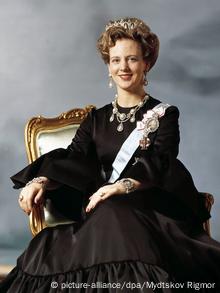 Queen Margrethe II, pictured in 1972, has endeared herself to the Danish people
Margrethe, however, had a profound sense of individual spirit as a young woman and also pursued her passions in art, literature, ballet, and philosophy. In addition to her mother tongue of Danish, she also speaks five other languages, including German.
Royal artist with stage fright
At the age of 31 she ascended to the throne and - although initially skeptical - the Danes quickly embraced their young and joyous Queen. Margrethe has also remained true to her passions even as Head of State and continues to paint landscapes and other scenes. Under the pseudonym Ingahild Grathmer she illustrates books and even designs postage stamps.
The Queen also translates foreign literature into Danish and designs church vestments, costumes and stage outfits. Margrethe often appears at state receptions wearing her own creations.
Margrethe's artistic works are exhibited in museums at home and abroad. Her landscapes are often delicate and minimalist while on the other hand she creates opulent collages and abstract paintings. The largest retrospective of Queen's art was shown in 2012 at the renowned Arken Museum in Copenhagen, featuring some 130 watercolors - an immense honor for a hobby artist.
Margrethe later explained how she suffered stage fright at the opening of the exhibition - a tingling in her stomach which only appears when she presents her art, but never when she's acting as Head of State. She stands up confidently to her critics - after all, she is a full-time Queen. As a part-time painter, she views herself as a woman who can speak her mind through color.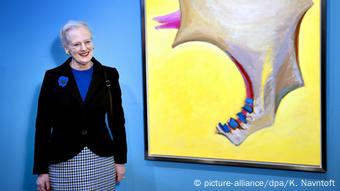 Aristocrat or artist? The Queen defies tradition
Even at 75, Queen Margrethe refuses to give up her eccentric lifestyle. She still rushes from appointment to appointment in colorful robes, laughs for the camera and continues to smoke like a chimney. She remains an imposing figure despite age - after all, she stands 1.9 meters tall.
Her marriage to Henri de Laborde de Monpezat has been going strong for nearly five decades - and unlike other royal dynasties, scandals in the Danish royal family are scarce. Margrethe remains a breath of fresh air - a great diva with a cordial allure. The coolest queen in the world.