Officials at the Kosovo Football Federation (FFK) are nervous - and with good reason. Just days before the national team is due to play their debut World Cup qualifier - on September 5 against Finland in Turku - nobody knows who will be in the team.
This despite the fact that if they could choose from all the players who are eligible to play for Kosovo, they could put together a team that would be competitive against any team in Europe. A total of 24 players with roots in Kosovo currently play for six other national teams.
The majority play for Albania - there were 14 on the squad that went to this summer's European Championships in France - and since both FIFA and UEFA have admitted Kosovo, some of them can be expected to want to play for the tiny Balkan nation.
So far, four former members of the Albanian national team, including Milot Rashica, have opted for Kosovo . The speedy winger, who plays his club football for Dutch side Vitesse Arnhem, is widely seen as Albania's most talented player in a century. His agent, the former captain of Hannover, Altin Lala, has said that Bundesliga and other European teams have expressed interest in buying the 20-year-old.
Theoretically players like Mergim Mavraj (Cologne), Lorik Cana (Nantes), goalkeeper Ertrit Berisha (Lazio), Taulant Xhaka (Basel) or Amir Abrashi (Freiburg), all of whom have until now represented Albania, would be eligible to play for Kosovo. So far, apart from Rashica, only Alban Meha (Konyaspor), Amir Rrahmani (RNK Split) and Besart Berisha (Melbourne Victory) have chosen Kosovo.
'There must not be any pressure'
Some media and observers in Albania took these players' decisions like a shot through the heart, Rashica's move described as "high treason." Others, though, argued it was a normal step in the development of a new national team.
"If the atmosphere becomes any more heated, future encounters between Albania and Kosovo on the football pitch will have to be classified as high-risk matches," warned the Kosovar sports journalist Milaim Krasniqi.
Kosovo Football Federation (FFK) official Bajram Shala doesn't think it will get that far.
"We have very good relations with the Albanian Football Federation. Every player can make their own decision which national team they will play for. There must not be any pressure," Shala told DW.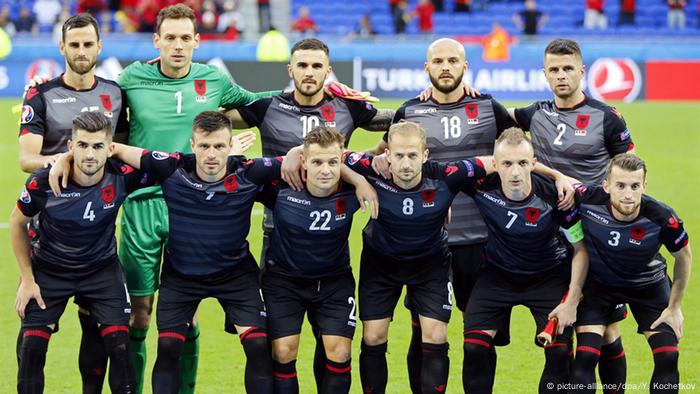 The Albanian national team at the 2016 European Championships in France: Many players have Kosovar roots
Other nations with potential worries about Albanian players leaving include Switzerland, Belgium, Norway, Sweden, Finland and Montenegro. Four Switzerland players could theoretically play for Kosovo: Valon Behrami (Watford), Xherdan Shaqiri (Stoke City), Granit Xhaka (Arsenal) and Shani Tarashaj (Everton).
"We have been in touch with all these players but we do not expect any of them to quit the Swiss national team," Shala said.
Kosovo's young hopefuls
Kosovo hope that Belgium's Adnan Januzaj, formerly of Manchester United and Borussia Dortmund and now at Sunderland, Finland's Perparim Hetemaj (Chievo), Norway pair Valon Berisha (Red Bull Salzburg) and Veton Berisha (Greuther Fürth) and Sweden's Arber Zeneli (Herennven) will choose to join their ranks.
"Valon Berisha from Norway and Arber Zeneli from Sweden have already given us their commitment," Shala said. "They will play for Kosovo soon."
For players with roots in Kosovo the decision for or against the national team is not just an emotional one. It also has possible financial repercussions. Players like Granit Xhaka, Xherdan Shaqiri or Adnan Januzaj have signed lucrative deals with national team sponsors.
There are also hopes in Kosovo promising youngsters like Donis Avdijaj (Schalke), Albion Avdijaj (Vaduz) and Dren Feka (Hamburg) can be convinced to play for the FIFA newcomer. By contrast Mergim Mavraj, Cologne's 30-year-old defender, is planning to remain with Albania but is convinced the younger generation will choose Kosovo.
No matches against Serbia, Bosnia
For World Cup 2018 qualifying, Kosovo has been drawn in a strong group with Croatia, Iceland, Ukraine, Turkey and Finland. Coach Albert Bunjaku still doesn't know which players he will have at his disposal for the Finland game.
Nonetheless, they have some good players available, including goalkeeper Samir Ujkani (Pisa), Enis Alushi (St Pauli), Besar Halimi (Mainz), Bersant Celina (Manchester City) and Fanol Perdedaj (1860 Munich).
Away from football, the Balkan nation faces considerable economic and political problems. Serbia and Bosnia have not recognized their independence, which is why they are not able to play them. Furthermore, Kosovo does not have a stadium that meets international standards. They will play they opening home qualifier against Croatia on October 6 in the Albanian city of Shkodra. Kosovo's football officials are hoping the stadium in the capital Pristina will be ready by June next year.
Only then will the home fans be able to enjoy qualification matches in their own country, with or without the likes of Xhaka, Shaqiri and co.