Spain 1 - 1 Russia (Russia win 4-3 on penalties), Luzhniki Stadium, Moscow
(Ignashevich og 11' - Dzyuba 41)
It didn't quite have the thrill-a-minute feel of Saturday's Round of 16 ties, but there was drama aplenty as Russia and Spain battled it out in the capital.
In a World Cup rapidly becoming known for own goals and set-piece efforts, Sergei Ignashevich ticked both boxes when his flick of his heel handed Spain the lead with 11 minutes played.
The 38-year-old was so intent on preventing Spain's Sergio Ramos from getting on the end of Isco's free-kick, he lost sight of the ball before unwittingly turning it into his own net.
Russia responded well to falling behind and, buoyed by the boisterous home crowd, enjoyed promising spells. Fast-paced wing play elicited panicky defending, while Aleksandr Golovin curled just wide with their best sight of goal.
The hosts were handed a lifeline on the stroke of half-time though, when Gerard Pique's handball led to referee Bjorn Kuipers pointing to the spot. Artem Dzyuba made no mistake to move on to three goals for the tournament and restore parity at the break.
The excitement of the first half dissipated soon after the restart as the game fell into a rather dull rhythm of Spain dominating possession without truly threatening.
Even the introduction of Denis Cheryshev and Andres Iniesta either side of the hour mark failed to spark the encounter back into life.
That was until the 85th minute, when after nearly 30 minutes without a significant chance on goal, Iniesta stung the palms of Igor Akinfeev, who completed a fine double save to deny Iago Aspas on the follow up, sending the tie into extra time.
There was little change to proceedings in the extra period as Spain continued toying with a deep-lying Russian side. Akinfeev had to deny both Pique and Rodrigo late on, but his real heroics came in the shootout as he saved spotkicks from Koke and Iago Aspas to send Russia into the quarter finals.
+++++As it happened+++++
FULL TIME: The shocks just keep on coming. Spain, one of the big favorites for this World Cup are eliminated as Germany, Portugal and Argentina were before them. They didn't deserve a lot more, lacking any real creativity until the late introductions of Aspas and Rodrigo. The crowd at the Luzhniki Stadium are going crazy, as well they might. The hosts were the lowest ranked side in the tournament and are now in the quarterfinals. They defended deep but defended well, scoring four penalties in the shootout and one in the 90 minutes. It's going to be some night in Moscow.
PENALTIES: Spain 3 – 4 Russia
Aspas must score to keep Spain alive. He doesn't. Akinfeev saves and Russia are through to the quarter finals! Spain are going home!
PENALTIES: Spain 3 – 4 Russia
Cheryshev, down the middle, in. Just.
PENALTIES: Spain 3 – 3 Russia
Ramos. He all but stops in his run up and strokes it home.
PENALTIES: Spain 2 – 3 Russia
Golovin gets away with that one. It was close to De Gea but went under him.
PENALTIES: Spain 2 – 2 Russia
Koke now. Straight down the middle and saved by Akinfeev! Advantage Russia.
PENALTIES: Spain 2 – 2 Russia
Ignashevich, the scorer of that early own goal is next. He hesitates in the run, De Gea commits and he scores!
PENALTIES: Spain 2 – 1 Russia
Now it's Pique. Off the left post and in!
PENALTIES: Spain 1 – 1 Russia
Smolov is Russia's first choice. The substitute has a stuttering run, up, De Gea guesses right but can't keep it out.
PENALTIES: Spain 1 – 0 Russia
Iniesta is up first for Spain. He pops it down the middle to put Spain ahead.
After complaining, presumably about the non-award of that late penalty, Ramos and Akinfeev toss a coin. Ramos wins and says Spain will take the first penalty.
Fernando Hierro talks to his troops. Who will put their hand up here?
END OF EXTRA TIME
120+1 - Rodrigo turns and gets a snap shot off but it's straight at Akinfeev. And we're going to penalties!
120' - Alba and Iniesta attempt a one-two but the return is overhit and the ball runs out of play.
117' - Golovin stands over a Russian corner but it's cleared. The tension is rising in Moscow.
115' - NO PENALTY
There was pushing and shoving both ways there and not enough to overturn the referee's call.
114' - PENALTY?
Koke whips in a free kick from the right and Rodrigo and Pique both go to ground. They're adamant that it's a penalty and they're going to VAR!
111' - A 'Russian defender lumps a free kick from the halfway line straight out of play. They'd surely take penalties if you offered it now.
109' - CHANCE
What a difference a bit of pace makes. Rodrigo, minutes after coming on, dummies on the halfway line motors down the right and forces a save from Akinfeev from a tight angle. Carvajal in almost on to the rebound but not quite, his shot is blocked.
107' - There's a huge roar as Akinfeev pumps one long in to the Spain half. For all that Spain have been poor, Russia have stuck to their task admirably.
106' - These sides have 15 minutes to find a winner and avoid penalties. It feels somewhat unlikely.
105' - CHANCE
Spain get a free kick for a tackle from Golovin on Isco that looked pretty clean. Pique rises highest to meet it but can't get enough power on the header and it's simple for Akinfeev. And that's half time.
103' - Aspas has definitely given Spain a bit of spark. He gets another snapshot off from the edge of the box. But it's blocked. Spain bring on Rodrigo for Asensio.
100' - CHANCE
Well, sort of a chance. Which seems to be the best we can hope for. Aspas found Asensio on the edge of the box but his shot was straight at Akinfeev.
97' - Koke must be as bored as the rest of us. He takes a pop from 35-40 yards. It is not good. Russia make another sub (you can now make a fourth in extra time). It's Yerokhin on for Kuzyayev.
95' - Aspas has added a little zest to Spain's play and bustles his way through on the left, but his low cross is cleared.
93' - You'll be shocked to learn that Russia have started extra time sitting deep and Spain are probing without much success. Although Isco and Carvajal almost combined to get Aspas in.
91' - We're back underway in Moscow. Let's hope for something, anything, different.
END OF NORMAL TIME
That's the end of 90 minutes. Russia have been as resolute and disciplined as you'd expect but Spain, despite the wealth of talent available to them, have failed to show any inspiration whatsoever, with the notable exception of Isco. Russia have had 5 shots on target, Spain have had 1. So we go to the first period of extra time of World Cup 2018.
90+3 - CHANCE
Russia have the opportunity to nick it at the end. Kudryashov is first to react to a loose ball, holds it up and finds Smolov. The substitute cuts inside smartly to find space but blazes wide.
90+2 - Russia throw the ball out of play. It looks like we're going to have to sit through another half hour of this dross.
90' - Spain have three corners in rapid succession but none of them comes to much. Ramos nods the third over and we'll have four minutes of added time.
87' - Russia are almost in on the break. Ramos got a tangle on the halfway line and Smolov should have played Golovin in but messed up the pass. The ends of each half have been the best parts of the game. Which isn't saying a lot.
85' - CHANCE
Aspas chests down Alba's cross to Iniesta, whose low drive is beaten away by Akinfeev. Aspas is on the rebound but the angle is too tight.
83' - Busquets swings and misses from a corner before Iniesta's cross is cleared. Can we skip straight to penalties?
80' - Spain have had 76 per cent possession and one shot on target. Which says it all.
76' - Costa and Iniesta exchange passes but the Barcelona man is just ahead of the ball and can't bring it under his spell.
73' - Ignashevich screws a simple clearance out for a corner. Costa almost picks it up but Russia clear.
72' - Zobnin goes in the book. After that flurry of excitement at the end of the first period, this is pretty dull stuff again. Spain don't seem to have a change of tempo or style up their sleeves. Their plan seems to be to tire the Russians out - and the hosts had the best running stats in the group stage.
70' - Another change for Spain. Carvajal replaces Nacho at right back.
66' - Golovin takes a tumble in the box with Ramos near him but there was no contact, it was just a slip. Spain call for Iniesta, the scorer of the winner in 2010 replaces David Silva.
65' - Another change for Russia, as goalscorer Dzyuba is removed in favor of Smolov.
63' - Once again Spain are struggling to find any sort of penetration. Ramos is lucky to escape a booking for chopping down Cheryshev on the right touchline.
60' - Nacho drives a cross on to the head of David Silva but the little magician is not much of an aerial threat and it glances off his shaven head and out of play. Russia bring on Cheryshev, who scored two in the opening match from the bench, for Samedov.
58' - Isco swerves in to the box to pick up a Costa pass but is crowded out. He goes to take the resulting corner and furiously kicks a second ball away. The corner is, once agin, poor.
57' - Samedov lifts in a corner for Russia - their fourth of the match - but Costa clears at the front post. The hosts have not used their set pieces well.
54' - Kutepov goes in the book for a late tackle on Isco, who still looks the man most likely for Spain. The free kick is wasted.
51' - Koke lifts in a free kick from the right which Pique rises to meet. But his header sails over the bar.
47' - Spain start the second half in control and Alba meets a cross from the right but the bounce is awkward, it hits his midriff and bounces harmlessly through to Akinfeev.
46' - The second half is underway! Russia have replaced Zhirkov with Granat.
HALF TIME
Well, that was a weird old half. After an own goal that was both unfortunate and stupid, Russia levelled things up with a penalty that probably only fits the latter of those definitions. Spain controlled things for the first 35 minutes or so without every posing a genuine threat but didn't cope well when Russia turned up the heat. It still feels like Spain have got enough if they can up the tempo but, based on the first 45, that's not a given.
45+1 - CHANCE
Spain have been stung in to life here. Isco gets space on the left and stands one up for Costa. There's not much pace on the ball though and the Atletico Madrid striker can only head in to Akinfeev's arms. Moments before, Costa had a shot saved by the Russian keeper. No shots for 45 minutes, then two in sixty seconds.
45'- I'm not sure if that counts as a shot but this is as close as Spain have come to one. Isco, the best player on the pitch so far, dances inside from the left and cracks one with his right. But a Russian defender heads it clear.
43' - Well, well. Spain have controlled the ball for much of the game but offered little threat. A sudden Russian flurry got them in back in it, and it's fair to say their restoration of parity is deserved.
41 - GOAL!
The big target man slams it to the right, De Gea goes the other way and we're all square.
39' - PENALTY TO RUSSIA
Dzyuba rises to head a corner back across goal. Pique's arm is up way above his head and he keeps it up long enough for the ball to strike it. Pique is booked and Dzyuba steps up.
36' - Something happened! It's Russia that create the first genuine chance in quite some time. Golovin drove forward and found Zobnin. He got crowded out but found a route back to Golovin who opened his body and curled wide of the far post. Spain have not had a shot but lead.
36' - Almost nothing is happening in Moscow, so time for a stat. Ignashevich's is the 10th own goal of this tournament. Easily a World Cup record.
34' - This is quite the comedown after yesterday's games.
30' - It feels slightly strange to say but Spain's technical excellence often makes them a very dull side to watch. It's not their fault of course but it's essentially attack vs. defense in a lot of their games.
27' - Russia win another corner, this time off Busquets. It's already starting to feel like set pieces are their best chance. They try to work it short but are forced back and eventually give it away. What a waste.
25' - A rare misplaced pass from Isco, who should play Alba in to space down the left side of the box but overcooks it and it runs out of play.
24' - Isco is fouled, not for the first time nor - you'd imagine - the last.
20' - Russia finally get down the pitch but red shirts swarm around them and Kuziaev just punts wildly towards no-one.
18' - This could be a long old game for the hosts. Spain have enjoyed nearly 80 per cent of possession so far. Russia are chasing shadows.
13' - After seeing the replays, this is pretty poor from Ignashevich. The 38-year-old who returned to the national team for this tournament, was too busy trying to manhandle Ramos to pay attention to the ball and it clipped his heel before going in. He's added his name to the long list of own goal scorers this World Cup.
11' - GOAL!
Asensio whips the resulting free kick in from the right. Ramos and Ignashevich are grappling at the far post and the Russian diverts it in to his own net. That's a great start for Spain and a mountain for Russia to climb.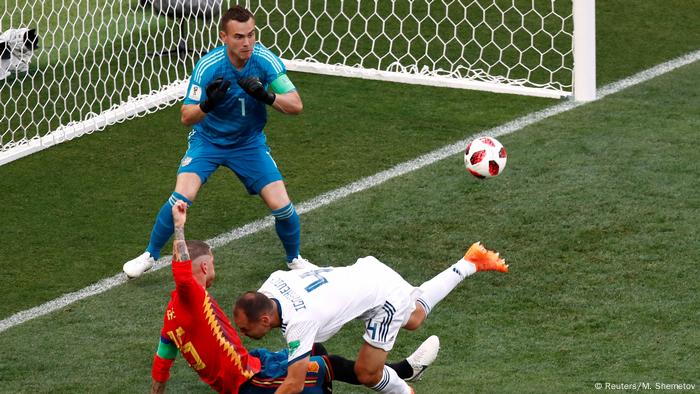 Sergei Ignashevich turns in to his own net
11' - Zhirkov catches Nacho on the knee with his studs and the Real Madrid man is down. That looked a painful one.
10' - Costa latches on to one down the left but is short of insipration and hits the nearest defender with a half-hearted cross.
7' - It's early days but Russia are sat very deep already. Even lone striker Dzyuba is back in his own half for the most part.
4' - Golovin bursts away down the right without much in the way of support. He tries a cross anyway and Pique deflects behind for the first corner of the match. But Samedov overhits the delivery.
3' - Spain start making their pretty patterns across the pitch before Alba has a dart down the left. But it comes to nought.
1' - Spain get us underway.
15:55 - Spain's rookie coach Fernando Hierro hugs his opposite number Stanislav Cherchesov and they both take their places on the bench. We're almost ready. Hierro's call to leave Iniesta out is a massive one but his side do look a little more mobile as a result.
15:52 - The players emerge from the tunnel to an almighty din. Can the hosts match their fans?
15:45 - After a barnstorming ten goal startto the knockout stages, it's time for the hosts to enter the stage. Russia breezed past Saudi Arabia and Egypt before succumbing to Uruguay in their last knockout game.
But it seems likely they'll have to step up another level today against a Spain side who have shown glimpses of their talent so far, without ever truly turning it on. There's surprises in both line ups as Spain leave out the man who scored the winner in the 2010 final, Andres Iniesta while Russia omit Denis Cheryshev, scorer of three of their eight goals.