Harry Kane moved ahead of Cristiano Ronaldo and Romelu Lukaku in the race for the Golden Boot as England demolished Panama to book their place in the last 16 of the World Cup.
England were 5-0 in front at halftime as they roasted their opponents, who are ranked 55th in the world. It was the first time England have scored more than four goals in a single game at a World Cup, and they will now play off with Belgium to decide who will top Group G.
England took an early lead through John Stones' bullet header — his first international goal — and Kane doubled their advantage soon after, rifling a penalty into the top corner after Jesse Lingard went down in the box.
Lingard scored a screamer soon after, bending the ball into the top corner from distance in superb style, and another Stones header capped a fine England set-piece routine to make it four.
Stones was then wrestled to the ground in the box and Kane notched up his second of the game — another from the penalty spot — to make it 5-0 at the break.
England took their foot off the gas after the break but Kane got his hat trick goal in fortuitous circumstances, with Lingard's shot deflecting off Kane and looping into the net.
But the most heartwarming moment of the game came when 37-year-old Panama substitute Felipe Baloy stretched out a leg to divert Mila's free-kick into the net for Panama's first ever World Cup goal. The Panama fans were dancing in the aisles of the Nizhny Novgorod stadium.
England are now level on points, goal difference and goals scored with Belgium, whom they play on Thursday in the Group G decider.
As it happened:
FT England 6-1 Panama — The biggest win yet at this World Cup as England flatten Panama to secure their place in the last 16 alongside Belgium from Group G. Panama are out, but they're celebrating their first ever World Cup goal.
90' Four added minutes.
87' There's not much to talk about on the field. England seeing out the game by keeping the ball and Panama seeing the game out by chasing it.
84' Both sets of fans having a party inside the stadium. Panama because they've scored at a World Cup and England because they think they're going to win the World Cup.
78' GOAL! England 6-1 Panama — Panama have scored their first ever World Cup goal! Boloy, the 37-year-old substitute, stretches his leg to reach Mila's free-kick and leave Pickford with no chance. The Panama fans are dancing in the aisles!
76' Huge chance for Panama to get a consolation, but Roman Torres puts his shot wide at the far post when he was unmarked at the corner.
72' Henderson lashes a volley just wide.
66' Barcenas with a perfect through ball to the marauding Murillo, whose attempted dink was well blocked by Pickford. Almost a first World Cup goal for Panama, and unpredictably the chance comes via the impressive Barcenas.
62' GOAL! England 6-0 Panama — Kane has his hat trick and is now the outright leader for the golden boot. A strong hint of offside as Lingard's shot deflects off an offside Kane and loops into the net.
61' England are due a goal...
57' This game is being played like a pre-season friendly now. Panama have pretty much given up.
53' Loftus-Cheek wins a corner for England, who have already scored from four corners at this tournament.
49' It's been a slow start to the second half, with Panama taking a more conservative approach to proceedings. Which is advisable, given the score.
46' SECOND HALF. We're back underway.
HT England 5-0 Panama — That was breathless from England. They've absolutely flattened Panama, and there's another 45 minutes to go.
45' GOAL! England 5-0 Panama — Kane rifles the ball into the same corner and England have scored more than four goals in a game for the first time at a World Cup.
44' PENALTY TO ENGLAND! Stones is wrestled to the ground and Kane will have a chance to make it five.
40' GOAL! England 4-0 Panama — Stones scores again and England have four! A brilliantly worked set piece. Trippier played it short to Henderson, who clipped it first time beyind the far post. Kane headed it back across the face of goal to Sterling, whose header was superbly saved by Penedo. It rebounded to Stones, who headed into the roof of the net.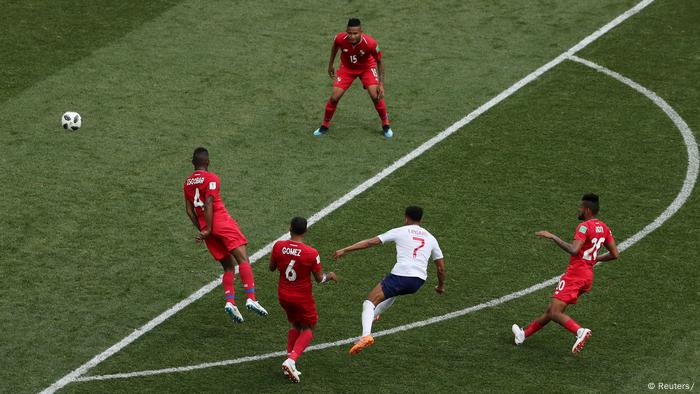 Lingard bends in a beauty in from distance to make it 3-0 to England.
36' GOAL! England 3-0 Panama — Lingard makes it three with an absolute peach of a goal. Cutting on to his right foot, he bends a delicious shot inside the top corner and that puts clear daylight between England and the Panamanians.
31' England still quite sloppy at the back and without playing well are cruising in this game.
29' Panama just not defending deep enough against an England side who are capable of tearing them apart.
25' England haven't been as impressive in the first 25 minutes here as they were against Tunisia, but crucially are taking their chances. Along way back for Panama already.
22' GOAL! England 2-0 Panama — Kane arrows his penalty into the top corner to emphatically double England's lead.
20' PENALTY TO ENGLAND! Lingard goes down in the box under pressure from Escobar. A soft one, but Kane will have the chance to make it 2-0 to England...
18' Panama aren't afraid of attacking England here — plenty of reasons for them to be optimistic despite being behind.
15' Panama chance! Barcenas looking lively again as he bends a superb shot centimeters wide of the post. So close to a spectacular equalizer.
13' Kane is almost played in by Henderson, but the through ball just had too much on it.
10' Barcenas has been Panama's most dangerous player in the opening stages. He races into space down the right and Maguire is forced to slide the ball away.
8' GOAL! England 1-0 Panama — England corner swung in from the right by Trippier and finds Stones unmarked, and he buries his header. The Three Lions lead.
5' Chance for Panama! Stones passes the ball straight to the Baracenas, who works it to Godoy, but his shot is anxiously sliced high and wide. Wake-up call for England.
4' First effort on goal is from Panama's Edgar Barcenas, whose volley is too high.
2' Lingard has taken a clattering from Gabriel Gomez and is down receiving treatment.
1' KICK OFF! We're underway in Nizhny Novgorod.
13:55 CEST The players are out, the anthems have been sung, and we're just about ready to go...
13:50 CEST Here's how the teams line up...
13:45 CEST Day 11 of the World Cup is here and we start with live coverage of England vs. Panama.