At our current pace of consumption, humankind is running out of resources and time to keep our planet habitable.
Under our existing economic model — which itself relies on increasing energy demands — industries are constantly producing materials for clothing, transport, construction and packaging that still largely rely on fossil fuels, plastics being a prime example.
"If we want to address the urgent challenge of climate change, such materials will have to come predominantly from fossil-free sources, basically from renewable biological resources," said Marc Palahi, director of the European Forest Institute.
An alternative is the bioeconomy, an economic model based on renewable, bio-based resources. Framed within the model of circular economy, in which resources are used as long as possible, the bioeconomy could drive our societies toward sustainability.
Bio-based materials such as bioplastics and nanocellulose — material extracted from cellulose, a natural renewable resource that is broadly available and biodegradable — can be used to create sustainable products used in daily life, but also for medical and chemical applications.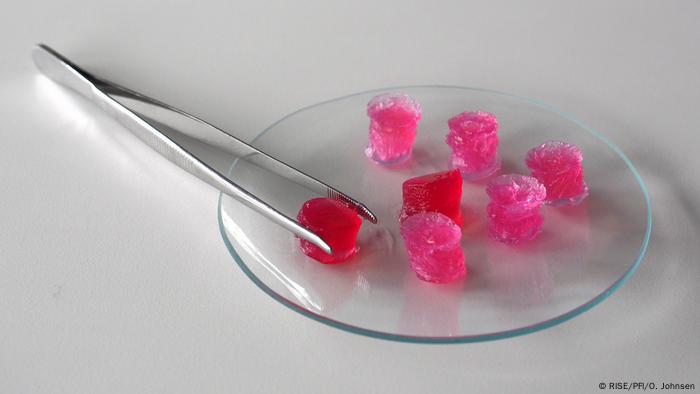 Bio-based products require lots of research (like these nanocellulose scaffolds) but have promising applications
Increasing variety of bio-based products
Cutlery, car seats and sport shoes made from bioplastics, together with plant-based leather tanning products made from olive leaf extract, or clothing made out of pineapple, bamboo and even milk are reaching store shelves.
But renewable resources can also be used in a wide variety of chemical and biomedical processes, though most of them are still in the research phase.
The Norwegian non-profit research institute RISE PFI is working on human "body parts" made out of wood, or, more specifically, nanocellulose. Pirate-style wooden peg legs may be the first thing that comes to mind, but in this case, the wood refers to tiny fibers that form scaffolds, which together with nutrients and stem cells from the injured patient help regenerate body tissue.
"With this very advanced use of a component from a bio resource, we can help the body repair an injury or a wound by itself," Kristin Syverud, lead scientist on nanocellulose research at RISE PFI, told DW.
This would represent a significant advance in the medical field, with sustainability at its core. Unlike other, synthetic medical products, these "wooden" human tissues would not rely on fossil fuels but purely on natural resources, Syverud explained.
Bio-based products could also significantly increase the eco-friendliness of the chemical industry, where petroleum and natural gas are by far the most widely used raw materials. The German chemical industry alone uses about 18 million tons of fossil fuel resources each year; only 13 percent of the raw material used for chemical processes is renewable.
Bucking that trend, the world's largest manufacturer of pine chemicals, Kraton, uses natural pine-based materials in its adhesives, roads, construction processes and lubricants, among others products traditionally made out of fossil fuels, mainly crude oil.
Turning waste gas into biofuels
In an ideal future, carbon-dependent products would disappear from our daily lives, but in the meantime, researchers are looking for sustainable alternatives, such as recycled carbon, and finding other ways to recycle or reuse products.
To that end, the California-based company LanzaTech is aiming to turn waste gases into alcohols such as ethanol, used as a motor fuel, or chemical-building blocks, which are the basis for products like lubricants or solvents.
LanzaTech creates its ethanol via microbes that make use of waste gases throughout their entire life cycle. Ethanol usually requires materials that could be used instead for human and animal food, such as corn or sugar cane.
Through gas fermentation, they provide a second life to industrial gases rich in carbon, for instance from steel manufacturing — all the while preventing carbon from ending up in the atmosphere.
"The ability to take carbon and convert it into products before it ends up in our atmosphere causing pollution is an important element of creating a sustainable future," said Jennifer Holmgren, CEO of LanzaTech.
All about money and politics
Even though most of these bio-based technologies have been successfully proven in demonstrations, they haven't yet been implemented on a commercial scale, meaning their economic profitability is still up for discussion.
"That is crucial. You can show all kinds of sustainable technologies, but if they don't make economic sense, they will fail," Holmgren said.
At this point, policy plays a decisive role. Without public incentives, these products might never reach the market, Holgrem pointed out.
But since the science behind these products remains extremely complex for the general public, politicians and stakeholders are still reluctant to lend their support, experts point out.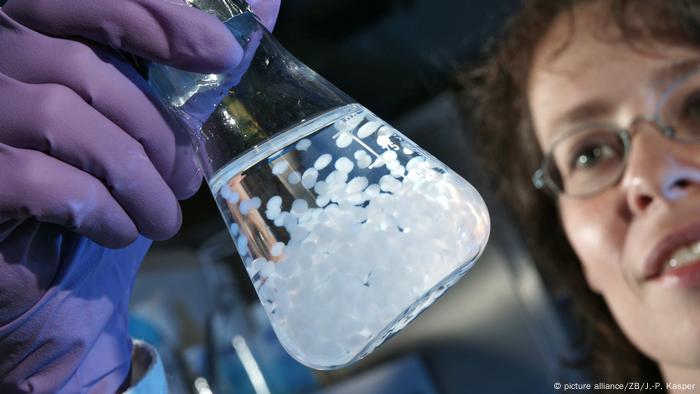 Increasing awareness of the importance of bio-based products is crucial for a sustainable future
Whole change of behavior
"If we want to face the urgent environmental problems we are facing and at the same time meet the increasing needs of a growing population, there is no other way but to have a paradigmatic shift in our economy," said Palahi of the European Forest Institute.
And as technical and complex as everything surrounding bioeconomy may sound, ordinary citizens also have a role to play.
"In a 'carbon smart world,' as I call it, I want you as a consumer not only to buy fair-trade coffee," said Holmgren. "I want you to go to the grocery store someday and say: 'I want the yogurt pot from the recycled carbon, instead of the yogurt pot made from the fresh fossil carbon.'"
But the move toward a sustainable society and a healthy planet won't come from a single product or idea.
"We need to use a diversity of sources and solutions, and every solution that can contribute to a positive change needs to have an equal seat at the table," Holmgren concluded.