As Mikaela Shiffrin saw Sweden's Frida Hansdotter claim the gold medal that the American won in Sochi four years ago, she may well have been cursing her luck.
Shortly before her first leg of the slalom on Friday, Shiffrin was ill, vomiting at the start gate and complaining of virus-like symptoms after she fell a disappointing 0.40 seconds off the pace.
"I don't know, it was kind of sudden. It almost felt like a virus kind of puking, less about nerves," Shiffrin initially told American network NBC.
It is not yet known whether the illness is related to the outbreak of norovirus that has effected two Swiss freestyle skiers, Fabian Bösch and Elias Ambühl.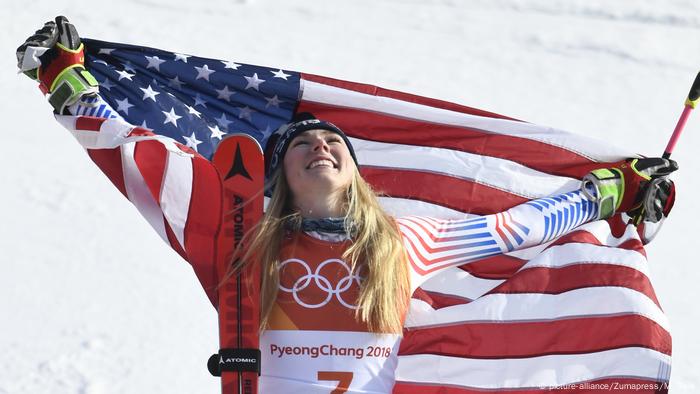 Mikaela Shiffrin won gold in the Giant Slalom on Thursday
The 22-year-old Shiffrin herself later backtracked on her initial assessment about her illness and instead attributed the bout of vomiting to nerves.
"I don't feel sick right now, I don't think I have a virus," she told reporters. "I was thinking that after the first run but it might have been a little bit of me trying to make an excuse."
Instead Shiffrin was self-critical about her fourth-place finish in the slalom, in which she was targeting a second gold after having won Thursday's giant slalom.
"The only one who can beat myself in slalom is me and I beat myself in the wrong way today," she said.
"It's a really big bummer but I will learn. Coming here and skiing the way that I did, really conservative, was a huge, huge disappointment. It's hard to explain how that feels but that's how life goes."
As well as failing to defend her title, the fourth-placed finish means Shiffrin will have to wait to potentially become the American record holder for most gold medals in Olympic alpine skiing.
Shiffrin said she will skip Saturday's Super G but is hoping to recover in time to compete in the downhill and alpine combined events. Her dream of five golds, however, is long gone.
mp/jh (AFP/AP)