Foreigners are often frustrated not just by the small size of most German grocery stores, but also because of an apparent stubbornness from the famous discounters Aldi, Lidl and Netto about moving into the food delivery business.
While mid-range supermarkets like Rewe and Edeka have stepped up investments in their 'groceries to your door' services, low-cost chains have instead thrived by taking advantage of curbs designed to prevent the spread of hypermarkets.
Spurning the e-grocery revolution altogether — although Lidl does deliver some clothes, household and electrical items — the discounters have instead dominated the grocery sector by focusing on smaller stores, with a limited product range, located in almost every suburb of most German cities and towns.
Closer to home
Unlike the US and Britain, where the trend until recently has been toward hypermarkets — which for many consumers is often a day out in itself — retail analysts told DW that Germans are used to visiting more compact stores, more often.
"Consumers don't save much time by ordering groceries online in Germany compared to visiting the stores themselves," said Joachim Stumpf, managing director of the Munich-based retail consultancy BBE, explaining how most supermarkets are only ever a short walk, drive or bicycle ride away.
Another reason is the fierce price competition in the grocery sector, which leaves the big discounters little margin to invest in online ordering and delivery services.
"Germany has the lowest food prices in the whole of Europe, so you can't gain a price advantage when offering online deliveries," Stumpf told DW.
Less than 1.5 percent of Germans bought foods or beverages online between 2013 and 15, according to a survey by IfD Allensbach. Consumer research firm Kantar Worldpanel reported that 'click and deliver' accounted for just 1.2 percent of all grocery sales in 2016, compared to 7-8 percent in the UK and more than 15 percent in South Korea.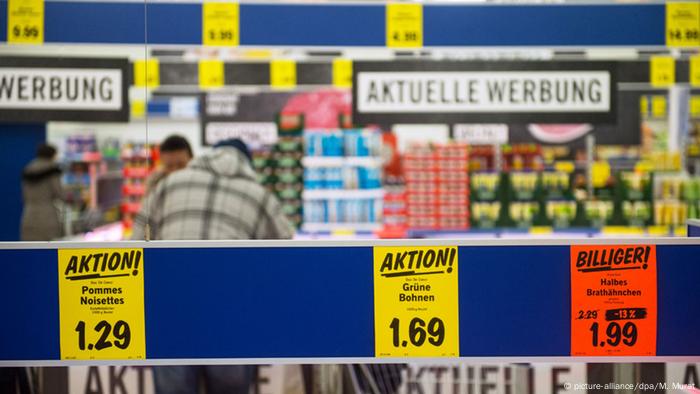 Germans love their brick-and-mortar retail stores
No trailblazer
And while the online grocery sector is expected to balloon, possibly reaching as high as 5 percent by 2025; according to retail analyst Bain, it is still predicted to be at a much slower pace than other mature markets.
Retail analysts told DW that Germans are suspicious that quality may be compromised if they buy groceries online.
Read also: German discounter Lidl speeds up US plans
"German customers have high standards regarding the freshness of the produce. They usually also like to choose and select right there in the shop," said Hendrik Schröder, a professor in business and marketing at the University of Duisburg-Essen.
Another reason cited is the German emphasis on work-life balance, meaning that unlike Americans or Britons, they're never too stressed to shop in person. So both consumers and the likes of Lidl, Aldi and Penny still ask themselves "Is it worth it," Schröder said.
Nevertheless, investment in online groceries needs to step up a gear if the discounters are to avoid market share erosion from their higher-end competitors. Although Aldi, Lidl and other low-cost operators grew during most of the 2000s — reaching 44.5 percent of the total grocery market in 2008 — the last decade has seen mid-range and premium supermarkets expand by some 15 percent.
Amazon lurks
The arrival last year of Amazon in the online grocery sector could also force a quick change in strategy. The tech giant is offering its prime subscribers in Berlin, Hamburg and Munich some 85,000 items for €9.99 ($12.4) a month, and unlimited deliveries for items over €40.
But despite Amazon's technology and logistics prowess, German consumers remain the main "bottleneck" to a buoyant online grocery market here, and any change will be slow, predicted Schröder.
BBE's Stumpf thinks Amazon's purchase in the US of the organic chain Wholefoods is giving the world's largest internet retailer a useful insight into grocery deliveries, and predicts Aldi and Lidl will soon have an online offer.
"Maybe not only deliveries, but they could also introduce 'click and collect' or offer a combination of cross-selling activities," he said.
Tough market
Discounters face increased challenges offline too and are now opting for larger retail sites, which allow for a bigger product range, while also experimenting with downtown or city center stores that cater to busy urbanites.
Marketing tactics, aimed at broadening their appeal, have included the opening of pop-up Aldi bistros and Lidl launching a high-end fashion label, in collaboration with German-American model Heidi Klum.
But for as long as grocery deliveries struggle to gain traction in Germany, the discounters are loath to make the costly investment in technology and infrastructure, although they are "experimenting with e-commerce grocery models in other countries, including the US," said Christian Fenner, partner and retail expert at Bain.
"We believe that Lidl and Aldi will continue to test different options before fully committing — until a profitable and accretive model emerges and customers' willingness to pay for online services becomes clearer," he told DW.
Although Lidl didn't want to comment for this article, Aldi Süd told DW in a statement that the firm was looking for e-commerce opportunities, but couldn't say when such an offer might begin.