Pricing wars amongst US grocers are expected to intensify this summer when German discount grocer Lidl opens its first stores in the US, jumping straight into the fray with heavy-hitters like Walmart and Amazon.
Americans are not quite sure what to say about the upcoming opening of Lidl grocery stores, mostly because they remain unsure about how exactly to pronounce "Lidl." Often mispronounced as "liddle," any German would know it is actually "leedle," and with this mysterious new name comes a new approach to groceries.
Lidl will open its first 10 stores in the American southwest, jumping straight into the Great American Grocery Wars where giants like Amazon, Walmart and Kroger have enjoyed dominance for decades; yet stagnating growth rates for larger retailers indicate a shift in favor of up-and-comers Lidl and Aldi.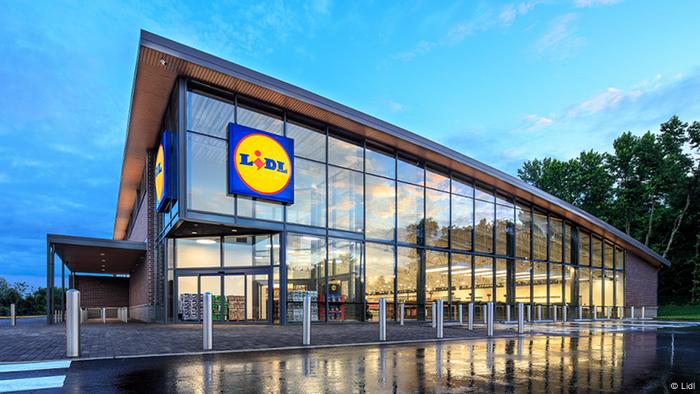 Competitors are scrambling to secure more favorable positions as the market continues to rock and roll from the drastic undercutting of prices. With rather suspicious timing, Aldi announced only days before Lidl's grand unveil that it plans to open 900 new stores in the next five years. This would position Aldi as America's third-largest grocer in terms of store count. Whole Foods, after six quarters of declining sales, is frantically pushing 365 By Whole Foods, its chain of low-cost organic goods. And let's not forget Amazon Fresh, which has been experiencing rapid growth as the adoption of Amazon Prime introduces consumers to the luxury of purchasing groceries online.
All hype aside, the grocery world remains dominated by Walmart, which claimed 21.5 percent of the $800 billion (713 billion euro) market in 2016. Despite the heavy competition, Lidl is entering the market at a time when shopping preferences have inverted from historical trends, making its selling points that much more attractive to the average consumer.
"Where the discounters are coming in differently is they are looking at the totality of what people are buying and they are going after only the most popular items," says Jon Springer, retail editor of the Supermarket News. "In that way they are trying to cut out the variety that may confuse shoppers and make shopping a little bit more of a task."
The German grocer model
Lidl is not the first to employ the "less is more" model. Another popular German grocer, Aldi, opened its US operations in 1976 and now has 1,600 stores across the country. Aldi's notoriously no-frills setup - goods are often displayed in the boxes they were shipped in, customers bag their own groceries - allows them to cut costs and slash prices to nearly 20 percent less than other stores. Yet, in some ways, they have failed to innovate much beyond that in the American market.
"Aldi is very much a cookie-cutter retailer whereas Lidl has a deep history of innovation and evolution and they are willing to try new things," said Michael Paglia, director of Retail Insights at Kantar Retail.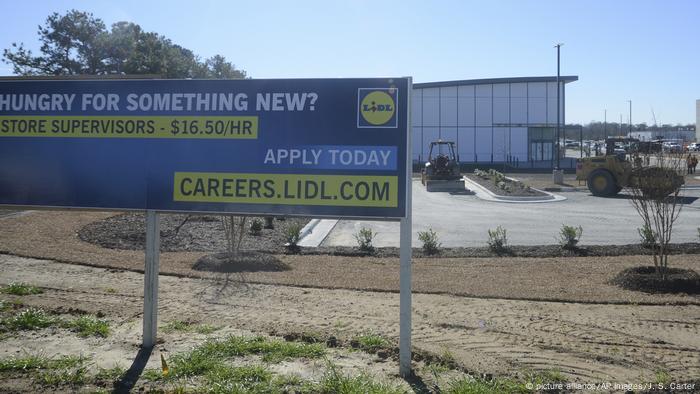 Lidl is hoping to make a splash on the US market, and it's also promising thousands of new jobs over the next couple of years
"Lidl is very adept at continually innovating and evolving its offer. And that makes them very much a moving target. They can be a tough retailer to keep up with, when they are literally changing day to day."
Lidl's US strategy centers on offering a smaller but highly curated selection of goods at a cheaper price. Although shoppers were previously wary of private label items, often disdainfully referred to as "generic" and associated with lesser quality ingredients, the popularity of Aldi, Trader Joe's and 365 By Whole Foods - all of which are majority private labels - indicate that this stigma has nearly dissolved.
Consumers today are more apt to read labels and are attracted to healthy, organic items. Even the physical size of Lidl stores will be modest: at about 20,000 square feet they cover less than half of the average American grocery store. For comparison, a store of this size may carry around 1,400 items, as opposed to Walmart's 30,000 items. But with demanding schedules, families to feed, and jobs to work, shoppers aren't as interested in navigating endless aisles and choosing between dozens of varieties of each product as they used to be.
"The smaller footprint of Lidl compared to Walmart could be a real advantage," says James Hertel, senior vice president of Inmar's Willard Bishop Analytics. "One of the negative associations with shopping in these large footprint stores is that consumers feel like they get lost in them."
#RethinkGrocery
Launching with the slick and somewhat techie slogan "Rethink Grocery," Lidl wants to embrace Aldi's successes and take it even further. Instead of offering a large selection of name brands, 90 percent of Lidl's products will be private label and focused on quality, with emphasis on organic and gluten-free items. These stores will also sell wine, fresh and frozen produce, fruits and meat. A bakery built into the front of every store will entice customers with the sweet scents of fresh bread and pastries. And a rotating selection of limited-time offers on non-food items, such as Heidi Klum's Lidl-exclusive clothing line, will tempt shoppers to keep checking back.
And, with 90 percent of Lidl's stores within five miles of a Walmart, it's unsure who will take whose customers; Walmart recently verified it is price testing in 1,200 stores in hopes of closing the pricing gap.
But they don't have Heidi Klum.