Bad news has come from Nigeria to begin the year: The World Health Organization (WHO) has reported five new cases of Lassa fever. A 15-year-old boy has died. The three nurses who treated him are also dead. A fourth is in hospital. According to reports by the WHO, 127 people have died of Lassa fever since December 2016.
The viral illness is a hemorrhagic fever. It is highly infectious and can cause death. Besides Lassa fever, there are also Ebola, Marburg fever and the Crimean-Congo fever. Such virused can spread easily between people. Animals such as bats and apes can also transmit the viruses to human beings.
The worst-case scenario would lead to an epidemic such as the 2014-2015 outbreak in West Africa, in which 28,000 people in Sierra Leone, Liberia and Guinea were infected and 11,300 died, according to the WHO. A group of researchers found out that West Africa in particular is prone to such epidemics. "Factors all come together in parts of West Africa to make it vulnerable," said Peter Horby, a professor of emerging infectious diseases and global health at the University of Oxford. And we saw that demonstrated rather terribly during the West Africa Ebola outbreak."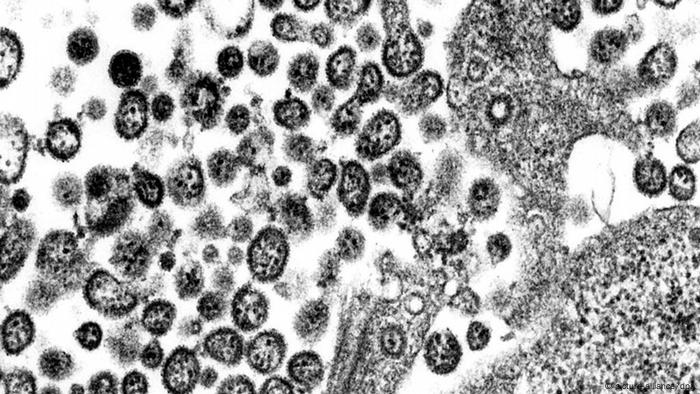 It is not possible to see how deadly the Lassa virus is through a microscope
'Number of factors'
Horby took part in a study that was published by the medical journal The Lancet last autumn. "The work that we did was looking at a number of factors," he said. "One was the presence of the right ecological niche for the animals that harbor the viruses. And then we looked at the population density of humans and the vulnerability of society in terms of health care quality and income to be able to control outbreaks."
On the risk map, West Africa is highlighted as a vulnerable area, Horby said. He added that other parts of Africa are equally vulnerable to different kinds of outbreaks. So, according to the study, the risk of bloodsucking insects passing on the Crimean-Congo fever to people in the Sahel region and in the Horn of Africa is likewise very high. As for the Lassa fever, the risk is limited to West Africa, especially areas in Guinea and Nigeria.
The Democratic Republic of Congo, in Central Africa, also has frequent Ebola outbreaks, "but they are usually not as big as the ones we saw in West Africa," Horby said. This is because the disease often shows up in remote and less-populated areas, generally leading to only a few infections. "But they are well used to responding to hemorrhagic fever outbreaks," Horby added. The virus was last recorded in Congo last summer, when four people died. The WHO praised the quick and effective reaction. Horby called the Democratic Republic of Congo, "which obviously has its own difficulties in terms of poverty," a "good example of what can be done even with poor resources."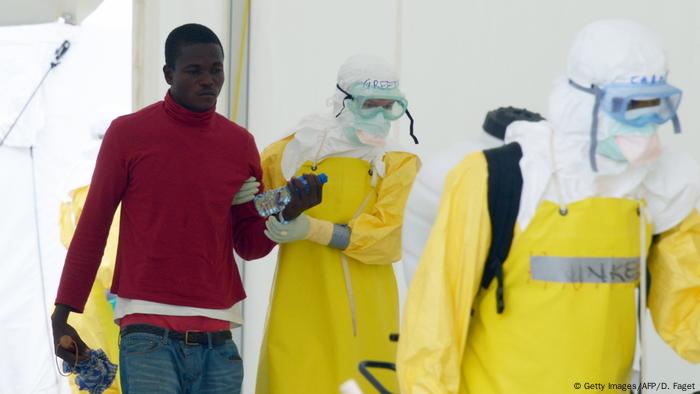 A potentially contaminated patient arrives for treatment at the Elwa hospital in Monrovia
Nevertheless, much must be invested into the health system, Horby said. "The real need is the human resources. And the number of public health professionals, doctors and nurses in some countries in West Africa is extremely low." Vaccines and medicine also have to be developed. Though there is an Ebola vaccine, it is yet to be authorized. As from March, a European-African network of research facilities in 13 countries intends to work together to make sure that the vaccines and the medicine can be tested and developed further.
The Ivory Coast was spared three years ago. But the worst effects of Ebola in neighboring Guinea and Liberia made Ivorians and their neighbors more sensitized, said Luc Kouadio, who is from the Ivory Coast. He is a professor of hygiene and public health at the Felix Houphouet-Boigny University in Abidjan. Like Horby, he said the main problem was the poorly equipped health systems in the region. "If there is anything good that came from this outbreak, it is that we are now prepared," he said. "People are now aware of their health and are well-informed. The appropriate mechanisms can now be quickly implemented. But we should not rest on that! We need to keep examining our capacities and systems."