The case against Haradinaj and two co-accused begins Monday before a United Nations criminal court in The Hague. The three ethnic Albanians were high-ranking officers in the Albanian Kosovo Liberation Army (KLA) which fought against Serbian forces.
The men stand accused of 37 counts of war crimes and crimes against humanity including persecutions, murder, torture and rape.

Haradinaj, Idriz Balaj and Lahi Brahimaj have insisted they are innocent.
The accused were rebel leaders in the KLA during the bloody ethnic conflict between Albanians and Serbs in 1989-1999.
Rebel leader and politician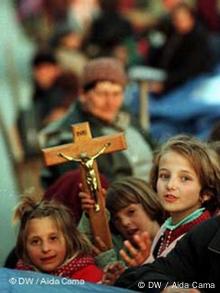 Haradinaj is accused of war crimes against civilians
Haradinaj, 38, became a leader in the political party Alliance for the Future of Kosovo that formed after the fighting ended. The UN has administered the Serbian province since a NATO bombing campaign in 1999. European Union leaders have made preserving peace in the Balkans a top priority. But the political future of Kosovo remains uncertain.
Haradinaj was indicted of war crimes in 2005 while serving as prime minister of Kosovo. He is the highest ranking Kosovo Albanian politician to go on trial for crimes committed during the conflict.
After his indictment, Haradinaj resigned his political post and surrendered to the International Criminal Tribunal for the former Yugoslavia (ICTY). He was later allowed to return to Kosovo and take a leadership role in his party, which now forms part of the ruling coalition.
Abuse and torture alleged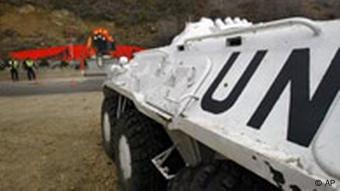 UN troops remain in Kosovo
Haradinaj is accused of setting up detention centers where rebel troops he commanded abused and tortured civilians. The prosecution alleges that a number of prisoners died as a result of mistreatment and others were executed.
The trial is the second against ethnic Albanians heard by the tribunal. In November 2005, the court sentenced KLA member Haradin Bala to a 13-year prison term for torture and murders committed at a KLA-run prison camp. In that trial, the two co-accused were acquitted of wrongdoing.