The HDTV computer animation maps out portions of the former borders in Berlin and between West and East Germany in an effort to show what a divided Germany was really like.
Today, remnants of the Wall and of the no-man's land that separated East from West are too few and far between for their meaning to be passed on to future generations.
Historians and television makers worked together in this Deutsche Welle project to create a detailed reconstruction of the no-man's land from the early 1980s, including new views of the border area.
Virtually experiencing history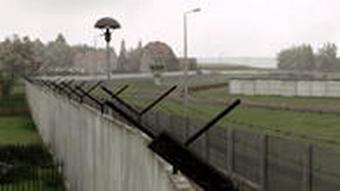 Every object in the project was painstakingly recreated with 3D polygons
"We want to convey to the people who see it what we suffered in Berlin and on the German-German border between the GDR and the Federal Republic," said Deutsche Welle's Director General Erik Bettermann.
Christoph Lanz, head of DW-TV, said that the HDTV animation is particularly accessible to younger audiences, for whom a divided Germany is just another piece of distant history.
To recreate the border in the utmost detail, the animators generated 130,000 pictures according to historical models. It took some 100,000 hours for the computers to calculate the data necessary for the high-definition production. Each individual object had to be copied with so-called polygons -- around 500,000 were necessary for the Church of Reconciliation on Bernauer Strasse in Berlin.
Thanks to the intensive animation process, the border can be "virtually experienced," said Axel Klausmeier, director of the Berlin Wall Foundation -- an experience that the 300,000 annual visitors to the Bernauer Strasse Memorial will also benefit from.
Shown around the world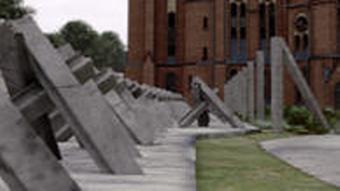 A section of the wall stood next to the Church of Reconciliation
DW-TV will broadcast the animation around the world in German, English, Arabic and Spanish. The film will also be available for viewing at the Berlin Wall Foundation memorial in Berlin and is also to be shown at the German embassies and consulates as well as at Goethe Institutes around the world.
The project will be available for use by the Federal Center for Political Education (BPB) and the state ministries for culture and education.
The animation is part of the DVD "Walled in! What the Cold War frontier in divided Germany was really like" which can be purchased at DW's online store or at the Berlin Wall memorial on Bernauer Strasse in the German capital.