While the German economy is experiencing near record growth in the wake of the global economic crisis in sharp contrast to other European countries, there is a darker side to the country's economic development - wage stagnation.
While in most other industrialized countries wages over the past 10 years have risen by 25 percent on average, wages in Germany have fallen.
From 2000 to 2009, real incomes among German workers fell by 4.5 percent, according to numbers adjusted for inflation and released by the International Labor Organization (ILO) on Wednesday.
Even though wages in other countries over the past few years have increased, the economic crisis has had a drastic slowing effect. While, workers around the world saw wage increases of 2.8 percent in 2006 and 2007, that growth slowed to around 1.5 percent in 2008 and 2009.
According to the ILO, the bill for the global financial crisis has been paid by workers, particularly when considering the number of unemployed. Compared to 2007, the number of jobless worldwide rose last year by about 30 million to 207 million.
The price of growth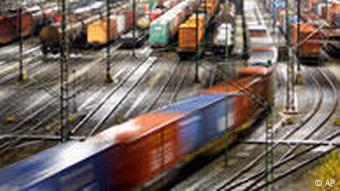 Germany, Europe's 'economic locomotive,' is going full steam, but wages aren't keeping up
None of the world's leading industrialized countries is better positioned competitively than Germany. Europe's economic locomotive has charged out of financial meltdown, thanks in large part to its more flexible labor market.
One example of the flexibility is state-subsidized "short-time" work, known in German as Kurzarbeit. Under this plan, companies do not fire employees during times of crisis, but shorten their hours and pay instead.
Therefore employees become less of a load on companies' accounts but don't end up in the unemployment line. Their salaries are partially paid by their companies, and then topped off by the Federal Labor Agency.
The plan helped keep Germany's unemployment rate under control during the peak of the financial crisis, and has received praise from the ILO.
Through "intelligent labor market instruments" and "positive dialog with social partners," employment rates remained fairly stable and wages fell only slightly, the organization said. The short-time work rules were a "good investment" that prevented layoffs and helped support domestic demand.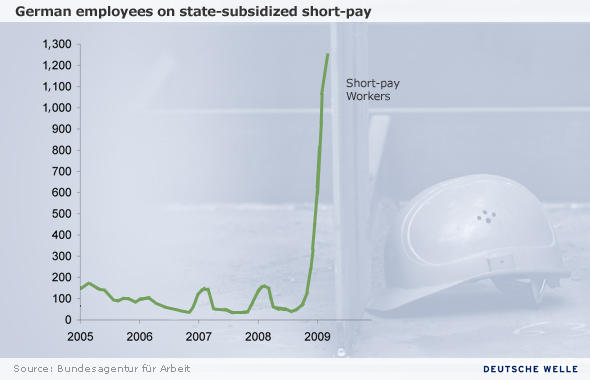 Less security
But that flexible labor market also saw the number of people with permanent contracts fall in recent years – even before the crisis. More people are working in so-called mini-jobs and other temporary arrangements. The wages paid by such jobs are often not enough for workers to live on.
These kinds of developments, together with agreements between unions and employers on small or moderate wage increases have contributed to the phenomenon of wage stagnation in Germany over the last decade.
While the development has made German firms more competitive, it has not strengthened consumer demand and wage levels have become decoupled from increases in productivity.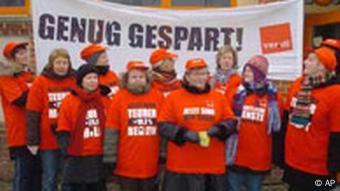 Unions are beginning to ask for wage increases after years of moderating their demands
Wage gap
In other countries, such as South Korea, the US and Japan, wages are no longer tied to growth in productivity, according to the ILO. While company and investment profits have grown, worker income has sunk.
The ILO demanded that rises in productivity be accompanied by wage increases and that more should be done to slow the trend toward low-wage work.
But a new dynamic is slowly being seen in wage structures, brought about largely by Germany's economic boom. Unions have begun demanding higher wages.
In the public-service sector, the demand is for a three-percent increase; the IG BCE industrial union is calling for a 6 percent increase for employees in the chemical sector; and workers at telecommunications giant Deutsche Telekom want a 6.5 percent raise.
The powerful IG Metal union says it plans to increase its demands when it enters important wage negotiations in the spring of 2012.
Author: Insa Wrede, Kyle James (Reuters, dpa)
Editor: Sam Edmonds