Just in time for the Christmas, it seems German consumers are rediscovering the joys of shopping.
Speaking to the lower house of the German parliament on Thursday, Economics Minister Rainer Bruederle said domestic demand was on the upswing and stronger than expected, as consumers were once again feeling comfortable enough to go out and spend.
"We're consuming again, people are doing well and people are spending again," said Bruederle, calling the economic upswing like something "out of a fairy tale."
Germany's gross domestic product is expected to grow by about 3.5 percent this year, nearing a two-decade high, and by 2.6 percent in 2011.
Bruederle said under the governing center-right coalition of the Christian Democrats and the liberal Free Democrats, Germany has become the economic model for all of Europe, adding that the country could expect to enjoy its current economic growth for the foreseeable future.
The market research firm GfK said consumer morale rose more than expected in November, for the sixth month in a row. And German business sentiment rose to its strongest level since 1991 in November, according to the Ifo economic think tank.
In October, unemployment fell to an 18-year low, dropping below three million for the first time since November 2008. Bruederle is convinced that full employment could soon be a possibility, adding that in many regions in the south of the country this was already a reality.
Opposition calls for wage increases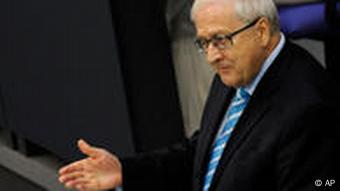 Bruederle said Germany had become the economic model for all of Europe
However, the opposition Greens, Social Democrats (SPD) and Left party criticized Bruederle's comments, saying the economic boom was leaving the unemployed, retired and poor behind.
Garrelt Duin, of the SPD, said the economic upswing was not stable or balanced. He said both domestic investment and wages needed to increase, to support the increased domestic demand.
Michael Schlecht of the Left party pointed out that while businesses were enjoying a growth in profits of up to 40 percent, wages had hardly followed suit. He said that since 2000, businesses had seen incomes increase by at least 50 percent, but the income of the average worker has actually dropped.
Schlecht also said austerity programs in other European Union countries, such as Greece and Ireland, would have a negative trickledown effect on German exports, on which Germany has traditionally relied to support its growth.
He called for a reversal of the reforms to the "Hartz IV" welfare subsidy program and for the introduction of a set minimum wage of 10 euros ($13.4) per hour, to shore up the domestic growth sector.
Author: Martin Kuebler (dapd, Reuters)
Editor: Chuck Penfold