The all-time best accoutrement for Carnival is a sense of humor. Those who lack it might as well stay home. But if you're ready to take virtually everything tongue-in-cheek, you're in for a good time.

People in countries around the world bask in Carnival celebrations that take place between winter and spring to let go before the fasting period of Lent. Prior to the austerity measures that kick in for the six weeks before Easter, Carnival enthusiasts let it all hang out.

In southern Germany, the event that starts the Thursday before Lent and ends on Ash Wednesday is called "Fasching" in German. In the Rhineland region, it's called "Karneval." While the rival cities of Düsseldorf and Cologne quibble over who does Carnival better, any "Cologner" will tell you there's no doubt about it: Cologne is the place to be.

Facing the music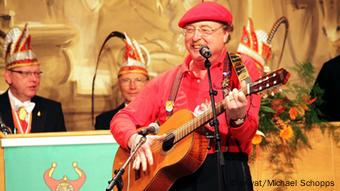 Wicky Junggeburth
Carnival just wouldn't be Carnival if it weren't for the music. When asked what Carnival means, Wicky Junggeburth, the "prince" of official Cologne Carnival activities back in 1993, belts out a song.

Carnival songs are sung in the Cologne dialect called "Kölsch," often with lyrics about doing wacky things, laughing about them, dancing and kissing whomever you may fancy on the street.

"You just have to forget your troubles for a while, but that freedom comes to an end again on Ash Wednesday" Junggeburth said.

The people of Cologne have partying in their blood, and that may go back to the founding of the city by the Romans over 2,000 years ago. Throw in the French and the Prussians, who alternated in reigning over town for a while, and revellers can look forward to a nice cultural mix.
"The Roman lifestyle, coupled with Parisian savoir-vivre, have created the perfect fertile ground for cultivating the Cologne mentality and dialect," humorist Konrad Beikircher once quipped.
A study of life

In no other city in Germany do so many musicians sing in the local dialect. The band Bläck Fööss (Kölsch for "bare feet") offers an especially creative - and popular - take on music in Kölsch. Their songs are colorful, humorous studies of the local environment in which people live and hang out. They are folk songs in the Cologne dialect that reflect regional attitudes toward life.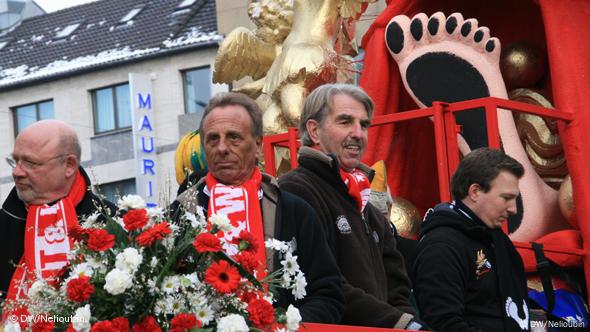 Bläck Fööss has long developed its own following
"I think the language is the only thing uniting people in this day and age, the only thing that is 'typical' of a city or region," said Bläck Fööss bass player Hartmut Priess.

"Pedestrian zones and department stores all look pretty much the same in every city. The only space left where people can say 'That's us, that's what defines us' is in the language," he added.

The Cologne dialect may help locals maintain a sense of identity, and it often shapes the Carnival experience for visitors.

"For the people who travel here, they can familiarize themselves with the dialect through Carnival and its music," Priess said.

Even people not originally from Cologne - fondly called "Immis" (immigrants) - quickly find themselves integrated into the Carnival party. They may hardly speak a word of German, but after a few days of celebrating, they can expect to be able to sing the refrains of some Kölsch songs. Along with Bläck Fööss, they can declare their love of the city: "Du bes die Stadt, op die mer all he stonn." In High German, the line is only half as pretty: "Du bist die Stadt, die wir alle lieben" (You are the city we all love).

The whole shebang

Bläck Fööss is far from the first band to sing songs in Kölsch, but they stem from a generation that focused mainly on rock music in English. Performing for the first time in 1970 with electric guitar, long hair, jeans and barefeet, they shook up a crowd used to more traditional sounds at Carnival events. There was no stopping them after that, and their songs have since become classics.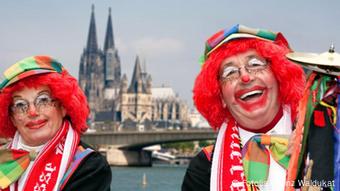 Hit the streets and you'll find clever costumes
Bläck Fööss' music spans everything from rock to reggae, waltz to tango, march to gospel and madrigal. And despite the Carnival character, their music can turn pensive, ironic or even critical of society. Reflections on racism, poverty and environmental destruction all find their way into the lyrics, along with people's everyday worries.

"We express people's wish for solidarity and community spirit in our songs," said singer and guitarist Bömmel Lückerath. "But life isn't perfect - you have to come to terms with reality, too."

But when the clock strikes Carnival and craziness descends upon the Rhineland, reality often feels as if it couldn't be further away. Those whot step foot into Cologne will find it hard to resist the energy. And soon enough, they may just find themselves belting out a tune or two in Kölsch.

Author: Suzanne Cords, Louisa Schaefer

Click on the audio links below to hear some Carnival classics.