One short sentence, quoted in advance by news magazine Spiegel on Friday before next week's edition hit the newsstands, has cast serious doubt over the future leadership of Europe's largest carmaker, the 12-badge behemoth that is the Volkswagen Group.
"I am distancing myself from Martin Winterkorn," Spiegel quoted VW boss Ferdinand Piëch as saying, in reference to the CEO of Volkswagen - Germany's best-paid executive of 2014 after raking in 15.6 billion euros ($16.5 billion at today's rates).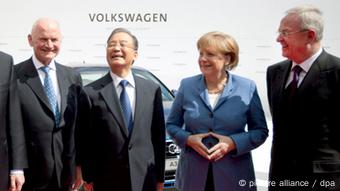 Piëch and Winterkorn had jointly spearheaded VW's push into new markets like China
Winterkorn, a close ally of Piëch ever since joining Audi in the 1980s, had long seemed a certainty to replace the 77-year-old as chair of the Volkswagen supervisory board. The grandson of Beetle-inventor Ferdinand Porsche, Piëch and his family retain major shares of both Volkswagen and Porsche.
Piëch: My wife's not next in line
One line of speculation was that Piëch intended to keep the business within the family, by appointing his wife Ursula in his stead, but the Austrian rejected this: "I am striving to get the right people at the top of the supervisory board and board of directors," Piëch told Spiegel, "and they are no relatives of mine, also not my wife."
Ursula Piëch is already a member of the board, and her husband said that she would remain in this role. "She won't do anything more," Piëch said, claiming that he did not want "to continue to rule via my wife."
Piëch's current term expires at the beginning of 2017, and the father of 12 told Spiegel that the right people to replace him were already within the 12-badge brand, without naming anybody. He also said that only people with a genuine engineering background - like himself and Winterkorn - could be considered for such positions.
Staff council, and government, defend Winterkorn
Rumors of dissatisfaction between the VW bigwigs first surfaced a few weeks ago, when Winterkorn was asked whether he would extend his contract beyond 2016 - the VW CEO told magazine Stern "you never know." Similarly, Piëch had displayed a rare glimmer of dissatisfaction last year when asked if he was satisfied with the brand's overall progression, responding "not really."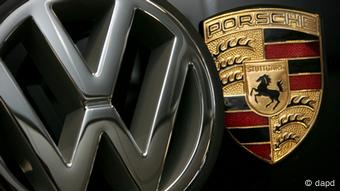 From Audi to Scania via Bugatti, Bentley, MAN, Skoda and others: the empire's no longer built on two brands
Despite the sudden instability, the Volkswagen Group as a whole continues to rack up record numbers. Across its 12 car brands, VW logged record profits of 12.7 billion euros for 2014, albeit with VW itself logging a drop in operating profit. Staff council president Bernd Osterloh raced to Winterkorn's defense on Friday.
"We have a clear position, which has not changed at all. With Dr. Winterkorn, we have one of the most successful automobile managers on board," the influential VW insider said.
Stephan Weil, the state premier of Lower Saxony - himself a member of the VW board because of the state owning a 20 percent share in the company - told German news agency dpa that he was "uncomfortably surprised by the quoted comments of Professor Piëch." Lower Saxony retains special voting rights on the VW board and can veto some significant decisions at the company. Only the Piëch and Porsche families hold a larger stake.
Europe's biggest carmaker remains in a three-way race with Toyota and General Motors for the crown of the best-selling brand in the world per unit, with all three manufacturers hovering close to the 10-million mark in 2014. VW's stated aim for several years has been to leave Toyota and GM behind.
Volkswagen's share prices were unaffected in late trading by the news, closing slightly up for the day at 244.40 euros per share. At the start of the calendar year, VW shares were closer to 180 euros, with the stock rising along with the DAX index as a whole in recent months.
msh/cmk (dpa, Reuters)