Volkswagen knows its way around gigantic parking lots. In the US huge spaces are filled with thousands of cars parked in neat lines. These cars were either recalled or had to be taken back because of the massive diesel scandal (see picture).
Read more: Does the world still love German cars?
Similar problems are now threatening Germany, though they are not directly related to the Dieselgate affair, they are a knock-on effect of the emissions cheating. As of September 1, only vehicles that are certified according to the new registration standard WLTP can be sold.
This new regulation, officially called the Worldwide Harmonized Light Vehicle Test Procedure, was introduced Europe-wide as a result of the diesel scandal and is supposed to ensure that emissions tests are closer to real driving situations.
Valets needed
VW is already producing numerous cars that are made to pass the new tests. However, the company is still waiting on approvals from the German Transport Authority for many of these models. According to a VW spokesman, for the company as a whole, which includes Porsche, Audi and Volkswagen among other brands, this could lead to delivery delays of 200,000 to 250,000 vehicles.
Read more: Opinion: Tear down Berlin's unfinished airport and start over!
In the meantime this fleet will be parked in rented lots. One of these places will be the as yet unopened airport in Berlin which was first reported in Handelsblatt on Wednesday. According to the report, additional areas are also under consideration such as the company's own testing area in Wolfsburg, but also other airports like Münster, Osnabrück and Hanover and the Jade Weser Port in Wilhelmshaven, Germany's only deep-sea port.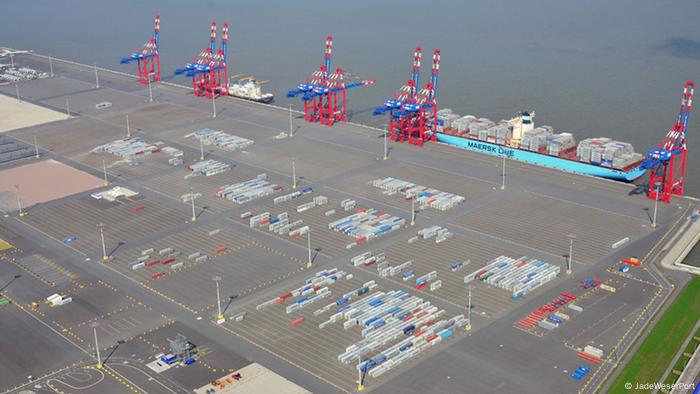 Plenty of room to park cars at the Jade Weser Port near Wilhemshaven, Germany
All German carmakers have the same problems with the new certification, but the impact for VW is severe since their in-house research and development units have been completely overburdened in recent months writing new software for vehicles affected by the diesel scandal, leaving little time to prepare for the WLTP standard.
This is having knock-on effects. Volkswagen announced Tuesday that after the normal plant closures, production in the main plant in Wolfsburg will be put on hold one or two days a week. This measure will be introduced immediately after the plant holidays in late July and is scheduled to run until the end of September, according to an internal notification for employees which was seen by Reuters.
Other plants affected
Volkswagen had already announced at the beginning of June that the assembly lines will be temporarily stopped after the plant holidays, because the new WLTP test procedure is more complex than originally thought. To make matters worse, the German authorities are already overloaded with work due to the diesel recalls of other car manufacturers.
"Switching to the new WLTP test cycle is a feat and — as previously announced — will result in temporary production capacity gaps from August," Volkswagen said. Other VW plants are affected as well. The plant in Zwickau is also scheduled to close for a few days in the third quarter. VW's own component factories in Kassel and Salzgitter will also be impacted.
Independent of the new exhaust testing, VW's Passat factory in Emden is scheduled to close for a few days in the third and fourth quarters, VW also said. The reason here is the difficult market situation in the middle class segment, of which Volkswagen is particularly sensitive since it is the market leader.