"In the next few years, we are not going to do without gasoline and diesel motors, but the future belongs to the electric car," the head of Volkswagen said in an interview with the mass-market paper.
"My goal is to produce a Golf (automobile) which consumes between three and four liters per 100 kilometers," he added. Currently, the most fuel-efficient version of VW's popular compact car consumes 4.3 liters (54.7 miles per gallon).
Electric or hybrid electric/gasoline motors have been criticized in the past, but now look set to power a new generation of vehicles.
Volkswagen, Europe's biggest car maker, has agreed to cooperate with the Japanese group Sanyo in the production of lithium-ion batteries.
Winterkorn told Bild that German car makers, which produce many large, gas-guzzling vehicles, could reach the carbon dioxide emissions target of 120 grams per kilometer by 2015.
EU wants 2012 deadline
Last week, German Chancellor Angela Merkel and French President Nicolas Sarkozy announced their joint support for the European Commission's goal of cutting average CO2 emissions to 120 grams by a deadline of 2012.
The deal includes flexible transitional provisions to make it easier for car manufacturers to adapt to the new emissions limit.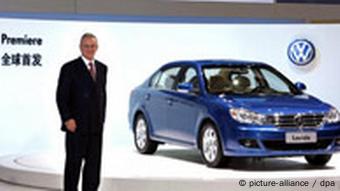 Winterkorn poses with the new Volkswagen Lavida during its world premiere at the Beijing Auto Show in April 2008
Winterkorn said he was happy with Merkel's work during the negotiations, but was critical of the overall political debate on climate protection.
"The German auto industry is suffering from the unclear specifications in the political sphere," he said. "People don't know what to expect, whether they will be asked to pay more or less car tax in future. That makes drivers very uncertain."
Consumer decisions important
The VW executive said that uncertainty was leading many German consumers to put off any decision about purchasing a new car.
"That's reflected in the fact that the average age of cars on the road in Germany is nine years," Winterkorn said. "That's bad for the whole sector, and for the environment. If the cars on our roads were just one year younger, that alone would save 800 million liters of fuel."