#BreakingBeck - It took less than half an hour for the gleeful hashtag to appear on Twitter after the news broke that Volker Beck, one of the Green party's most prominent members of parliament, had been caught in central Berlin with 0.6 grams of crystal meth, the drug manufactured by the protagonist of the US TV show "Breaking Bad."
Berlin authorities often drop charges in cases where the quantity of drugs is so low, but the damage to the 55-year-old's career is likely to be permanent. He has already resigned from all his official posts, but is clinging to Bundestag seat.
The "Bild" newspaper, which broke the story, was not slow to drag the politician over its own moral coals, splashing the headline "Green caught with Hitler drug!" on its front page - a reference to the Nazi leader's regular use of methamphetamines.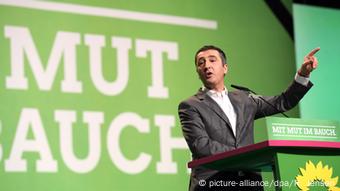 Özdemir released a video of himself standing next to a cannabis plant
The headline was particularly vicious considering that Beck chaired the German-Israeli parliamentary group, and as religious spokesman for his party regularly spoke out against anti-Semitism and defended Israel. In November last year, he was honored by the Central Council of Jews in Germany for his involvement on behalf of the country's Jewish communities.
Beck was a champion for other minorities in Germany, too. Himself one of the first Bundestag representatives to come out as gay, he was spokesman for Germany's Lesbian and Gay Federation for 13 years.
Josef Janning, German political analyst with the European Council on Foreign Relations, thinks Beck has handled the scandal well. "Beck is a professional. He knew immediately what it would mean," he told DW. "He did exactly the right thing not hesitating a moment relinquishing his duties because then the air is out of the story . He may come back. And I don't think this is really the end of him."
Green drug policy
Nevertheless, some of the politician's policies are likely to be haunting him at the moment - especially his liberal attitude to drug legalization. He tackled the point head on in the brief resignation statement posted on his website on Wednesday.
"I have always stood for a liberal drug policy," Beck wrote. "On the charges that have been leveled against me, my lawyer will give a statement to the prosecutor in due course. I will not go into it publicly."
This candidness provoked mixed reactions from his peers. "I cannot understand that Beck would try to justify his behavior with his liberal drug policy. He must know that he is committing a crime by buying crystal meth," said Stephan Mayer, interior policy spokesman for the conservative Christian Social Union, many of whose members called on Beck to give up his parliamentary mandate.
The Green party's official drug policy is similar to that adopted in certain states in the US - the decriminalization of cannabis, especially for its medical use, and drug consumption in general. Beck himself said in 2012, "The policy of criminalizing drug consumers has failed. For that reason we Greens are calling for the legal distribution of soft drugs through licensed specialty drug shops, under the guidance of the youth protection law." Crystal meth, however, is a hard drug and highly addictive.
Mayer's coalition partner Peter Altmaier, MP for the Christian Democratic Union and Angela Merkel's chief of staff, showed more understanding for the stricken Beck. "I have a different opinion on drug policy than most Greens," he tweeted. "But respect to Volker Beck for his quick and clear reaction."
More predictably, other prominent Green party leaders offered their support. "Volker Beck has made a mistake, there's no way round that," former leader Claudia Roth told "Die Welt" newspaper. "But considering his political achievements he has earned fair and respectful treatment, and not mockery."
Not easy being Green
Other Green colleagues were less forgiving. Winfried Kretschmann, the party's first ever state premier, is currently on the last leg of his election campaign in the state of Baden-Württemberg, which will go to the polls on March 13. He was less than amused by the timing of Beck's arrest - not least because Baden-Württemberg happens to be Beck's home state.
"It certainly is serious wrongdoing," Kretschmann told broadcaster ZDF on Thursday morning. "I can only hope that this individual wrongdoing won't be transferred to everyone." The Green party's federal leader Cem Özdemir also expressed his gratitude to Beck for "drawing the right conclusions" of his actions so quickly. The latest polls in Baden-Württemberg put the Greens neck and neck with the CDU in one of Germany's most conservative states.
"It could be damaging because they're fishing far beyond their pond," said Janning. "[In Baden-Württemberg] they have moved far beyond their core constituency, into those that think more conservatively, more faith-based, more rules-based people - with those people this behavior doesn't go down well."
Janning thinks much is at stake for the Greens. "If they could become the strongest faction in the state parliament that would be a major breakthrough, so I believe they are extra sensitive at the moment," he said.
Given that situation, party leader Özdemir might be well-advised to keep his outrage in check - he was briefly under investigation for drug offences at the beginning of last year when he provocatively released a video in which he could be seen standing next to a cannabis plant on his own balcony. The investigation was soon dropped.