Phan Van Khai, the architect of Vietnam's economic transformation and the country's first prime minister to visit the United States after the war, died Saturday at the age of 84.
He died in Cu Chi, his home district, on the outskirts of Ho Chi Minh City, formerly Saigon.
Khai was a Soviet-trained economist from southern Vietnam. He was prime minister for nine years beginning in 1997 and ushered in an era of reform that saw Vietnam transform itself into one of Southeast Asia's fastest-growing economies.
He also made history as the country's first postwar leader when he visited Washington in 2005. It was a landmark trip that helped solidify relations between the former wartime foes.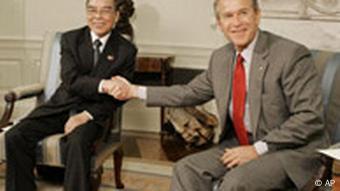 Khai with President George W. Bush in Washington
A government statement announcing the former premier's death was released early on Saturday. It hailed Khai's "spirit of innovation."
He "brought into play the capabilities of the whole economic sector, especially the private sector, in parallel with the opening up and international integration (of the country)," the statement said.
During his nine years in office, Khai oversaw Vietnam's rapid economic growth. He signed a bilateral trade deal with the US in 2000, became the first postwar Vietnamese leader to visit Washington, in 2005, and presided over his country's entry into the World Trade Organization in 2006.
Read more: Vietnamese oil executive kidnapped in Berlin
Against French colonial power
He also oversaw the introduction of the country's Business Law in 1999, which opened the door to private businesses in Vietnam.
Economist Pham Chi Lan, one of Khai's economic advisers, called Khai one of Vietnam's most reform-minded prime ministers.
"He was a good politician and technocrat because he was among the few Vietnamese leaders who were trained properly in economics," she said.
Khai joined the revolution against French colonial power when he was 14, and fled to the Communist-held North after the country was divided in 1954.
Subsequently, he spent five years in Moscow studying economics — until 1965. Khai returned to Ho Chi Minh City after the Communists unified the country in 1975.
He was the city's mayor from 1985 to 1989, and then moved on to the central government.
Before becoming prime minister, Khai was deputy premier to his patron and mentor Vo Van Kiet from 1991-97. He was appointed prime minister in 1997 and served until 2006. He resigned a year before his term expired, frustrated with the slow pace of reform.
After stepping down in 2006, Khai was succeeded by Nguyen Tan Dung.
Read more: The My Lai massacre 50 years on
bik/xx (AFP, AP, dpa)
Each evening at 1830 UTC, DW's editors send out a selection of the day's hard news and quality feature journalism. You can sign up to receive it directly here.