The office of Venezuelan Attorney General Luisa Ortega Diaz on Friday said it was investigating a number of allegations, including arbitrary raids and illegitimate detentions during the country's wave of anti-government protests.
In a statement, it said National Intelligence Director Gustavo Gonzalez had been ordered to appear before the body to respond to the charges early next week.
"The Public Ministry will continue safeguarding the protection and defense of Venezuelans' human rights," the statement said.
A few hours later, Venezuelan President Nicolas Maduro announced Gonzalez was being promoted to leader of the military.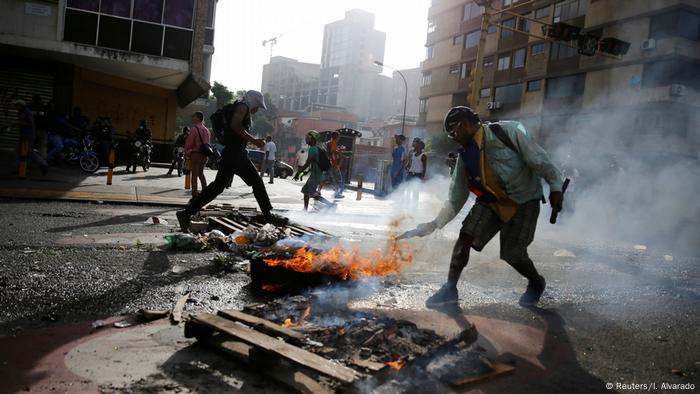 Almost 80 people have been killed in near-daily protests in crisis-wracked Venezuela
Three months of unrest
Nearly 80 people have died, 1,500 have been wounded and thousands locked up during three months of near-daily demonstrations against Maduro's government.
Of those instances, "Twenty-three of the deceased persons and 853 of the injured have been attributed to police or military officials," according to the attorney general's office. The ministry said it was conducting some 450 investigations into alleged human rights violations during the protests, including cases of people who remain in prison, despite court orders that they be set free.
The allegations against Gonzalez came one day after similar charges were leveled against Antonio Benavides Torres, the former commander of the country's National Guard who, until June, had been responsible for maintaining order during the protests.
Venezuelan Vice President Tareck El Aissami on Friday threw his support behind the two officials, describing the allegations against "two worthy Venezuelans, two exemplary men," as "slanderous." Speaking on state broadcaster VTV, he instead accused the attorney general of leading a coup against the government.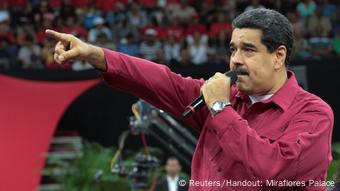 Maduro has vowed to rewrite the constitution
Widening rift
Ortega Diaz, a former Maduro ally, has emerged as one of the government's most high profile critics in recent months. Tensions have continued to escalate since March, when she contested a Supreme Court decision that dissolved the opposition-controlled National Assembly. She has also challenged Maduro's bid to rewrite the constitution and pushed for charges to be laid against officers responsible for deaths during the protests.
The Supreme Court has taken a number of steps to curtail her office's responsibilities and re-assign them to the pro-Maduro ombudsman's office. Earlier this week, the court banned her from leaving the country and froze all her assets. On Friday, she asked the Washington-based Inter-American Commission on Human Rights for protection for herself and all those working in her office.
"This is yet another step against the democratic institutions and autonomy of the Venezuelan public prosecutor," Diego Garcia Sayan, the United Nation's special investigator on the independence of judges and lawyers, said Friday.
Opposition protesters in Venezuela are calling for fresh elections and an end to the economic and political crisis gripping their country. Maduro has pledged to solve the upheaval by convoking a special assembly to rewrite the constitution. An election is scheduled to take place later this month, although polls indicate it has scant public support.
nm/kl (AP, EFE, dpa)