A federal jury in New York found Francisco Flores de Freitas and his cousin Efrain Campo Flores guilty on Friday of conspiring to import over 1,700 pounds (771 kilograms) of cocaine into the United States.
The two are the nephews of Cilia Flores, the wife of Venezuelan President Nicolas Maduro. They both face up to life in prison when they are sentenced.
Prosecutors said the two conspired to use a Venezuelan airport's presidential hangar to send the cocaine to Honduras to later ship to the US.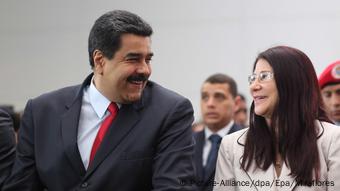 The case has been an embarrassment for Venezuelan President Maduro and his wife, Cilia Flores
Their defense lawyers argued in court that no drugs were transferred and that the two men never intended to deliver drugs.
Campo and Flores were arrested in Haiti in November last year and flown to the US following a sting operation set up by the US Drug Enforcement Administration (DEA). The defense team said that the sting operation was deeply flawed and that while building the case, the DEA relied on an informant who both dealt and used cocaine.
Prosecutors, on the other hand, told jurors to look at other evidence in the case - including recorded statements the two defendants made to federal agents.
"The defendants thought they were above the law," Assistant US Attorney Brendan Quigley said. "They thought they could operate with impunity in Venezuela because of who they were and who they were related to."
The two cousins reportedly told DEA informants they wanted the cash in order to counteract money they believed the US was supplying to Venezuela's opposition prior to the December 2015 National Assembly elections.
Maduro's Socialist Party lost its parliamentary majority following the election. The case has been an embarrassment for Maduro while his South American nation faces economic and political crises.
Friday's case is one of several in which US prosecutors have linked individuals tied to Venezuela's government to drug trafficking.
rs/kl (AP, Reuters)