The Vatican said on Friday that it will open its central files, known as the Secret Archives, as well as files of its Secretariat of State for the 17-year papacy of Pius XI, who died in 1939.
In a short announcement, it said the opening would "make available for historical research… all documentary sources until February 1939 that are stored in different series of the Archives of the Holy See."
Parts of the archives can already be consulted by researchers but the documents to be made available from September are expected to shed new light on the Vatican's diplomatic activities in the run-up to World War II.
Wartime archives off-limits
Historians have long pushed the Vatican to open its wartime archives to answer questions about what the Catholic Church knew about the Nazi persecution of Europe's Jews.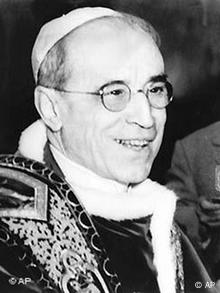 Pius XII's wartime papacy has been attacked by critics
However the archives of the pontificate of Pius XI's successor, Pius XII, whom critics accuse of failing to help the Jews, will remain closed for the time being.
"I welcome the decision to release the documents, but urge the Vatican to do more," Rabbi Marvien Hier, dean of the Simon Wiesenthal Center in Los Angeles, told Reuters.
Heir said that while the new documents would shed light on the Church's activities leading up to the war, it was Pius XII's actions during the war that were of crucial importance.
"We are now 65 years from the events of the Nazi period and there is no reason to withhold those documents from researchers and the public," he said.