Supporters of Wucherpfennig on Wednesday slammed the Vatican's withholding of approval for his third term at Frankfurt's Sankt Georgen University, joining appeals by German bishoprics and his own Catholic order for him to stay in the post of rector.
Wucherpfennig, a 52-year-old Jesuit professor, who since 2008 has held the chair in New Testament exegesis at Sankt Georgen and who in 2014 became the university's rector, was re-elected officially last February. However, he still does not have formal Vatican clearance to resume his next two-year tenure. The post of rector is being filled temporarily by a deputy.
Read more: German Catholic church reveals scale of sexual abuse
Sankt Georgen University, with some 400 students, is where four bishoprics in Germany - Hamburg, Hildesheim, Limburg and Osnabrück - have their recruits trained for the priesthood and pastoral care. Three went public this week in backing him, joining support from lay "We are church" advocates and the Catholic BDKJ youth federation.
New Testament endorsement
In a 2016 interview, Wucherpfennig urged the global church to pave the way for women into the priesthood and to end discrimination against homosexuals, citing New Testament passages indicating that women once held church ministerial posts.
And this week, he told Catholic Church media: "I see my utterances on homosexuality and on the sanctification of same-sex couples on the basis of Catholic doctrine."
Endorsement 'star-lit moment'
Wucherpfennig described Wednesday's endorsement from German theologians as a "star-lit moment for the church in Germany" while hundreds of world bishops attended a synod on youth issues in Rome, running until October 29.
Frankfurt's loosely grouped professorial Scientific Circle (Wissenschaftsrunde) joined the inner-church German outcry Wednesday, accusing the Vatican through its behavior of "damaging its reputation and losing touch with the diverse society in which we live."
Catholic theologians at Frankfurt's Goethe University called on cardinals responsible to "rethink and correct their decision" on Wucherpfennig, adding that the Vatican's stance "extremely" endangered the freedom of theological research and academic self-administration.
Johannes Siebner, the provincial superior for Jesuits in Germany, said the delay in obtaining the formal declaration of no-objection (Unbedenklichkeitserklärung) from Vatican education officials might be due to a "misunderstanding."
But he added: "We must, at last, accept relations between same-sex persons for what they are."
Siebner complained of a "twisted" and "obsolete" handling of the topic of homosexuality by those responsible in the Vatican.
Battle for power
Educator and theologian Klaus Mertes, who in Berlin in 2010 set in motion disclosures on church sexual abuse cases and who now directs St. Blasien, a church high school in Germany's southwestern Baden-Württemberg state, accused "Vatican officials" of interfering in serious theological teaching with a misplaced "penetrating self-assuredness."
Read more: Archbishop urges rethink on rethink on celibacy
Writing a guest article in the weekly Die Zeit, due for publication Thursday, Mertes said church authorities had sought to belittle Wucherpfennig with "barren words at the lowest intellectual level."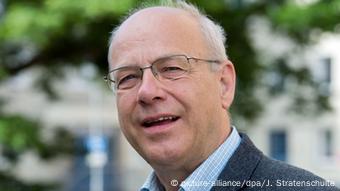 Mertes 'blew the whistle' on abuse scandals in 2010
"Here it's clearly not about truth or the search for realistic pastoral care but a battle for power," Mertes said, accusing Vatican officials of mocking "all the efforts by priests on the ground to repair damage left by the abuse scandal."
Nearly two-thirds
A YouGov survey conducted in eight Catholic countries and published Wednesday found that 59 percent of respondents felt the church should reconsider its current teaching on LGBT (lesbian, gay, bisexual, transgender) issues.
At the Rome synod involving 266 bishops, Philadelphia Archbishop Charles Chaput declared last Thursday: "There is no such thing as an 'LGBTQ Catholic' or a 'transgender Catholic' or a 'heterosexual Catholic' — as if our sexual appetites defined who we are."
The synod began with a 70-page working paper that mentioned LGBT only once, asserting that sexuality can be "disfigured" by early activity, multiple partners, digital pornography and sexual tourism.
ipj/rc (KNA, dpa, AFP)