Elizabeth Warren and several other US Senators have asked the Financial Crimes Enforcement Network to stop punishing banks that do business with cannabis-related businesses in states where these have been legalized.
In a letter to the agency, the Senators wrote: "Most banks and credit unions have either closed accounts or simply refused to offer services to indirect and ancillary businesses that service the marijuana industry. A large number of professionals have been unable to access the financial system because they are doing business with marijuana growers and dispensaries."
Senator Warren has built her political career around advocacy of financial reforms. She been a high-profile critic of malfeasance by Wall Street, and an advocate for making the financial system better serve the interests of consumers and middle-class families.
More and more states are legalizing cannabis
Twenty-eight states have legalized marijuana for medicinal or recreational use. Most recently, on November 8, 2016, a majority of voters in California, Massachusetts and Nevada approved a ballot measure to legalize it for recreational use, joining Washington, Oregon, Colorado, Alaska, and Washington, D.C. An additional 16 states have passed laws allowing for limited medicinal use of the herb.
Cannabis remains illegal in Germany - though many people use it nevertheless, and rumors in political Berlin suggest that a law decriminalizing cannabis use may be in the works, albeit only after the next federal election, which is due to be held in September.
Service businesses affected
The letter to the head of the Financial Crimes Enforcement Network points to a variety of businesses that provide services to the cannabis industry which have run into problems getting financial services: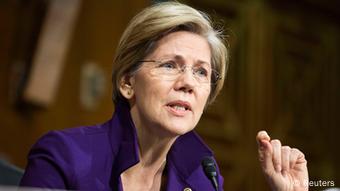 US Senator Elizabeth Warren, Democrat of Massachusetts
"To be clear, these legitimate, indirect businesses have been unable to open checking accounts and accept credit cards or checks. In some cases they have also lost access to existing accounts, such as retirement accounts, and have been forced to pay their employees, taxes, and bills in cash. Locking lawyers, landlords, plumbers, electricians, security companies, and the like out of the nation's banking and finance systems serves no one's interest."
Legal in many states, but illegal federally
Two years ago, the US Department of the Treasury gave banks permission to do business with legal marijuana entities under some conditions. Since then, the number of banks and credit unions willing to handle money from cannabis sales rose from 51 in 2014 to 301 in 2016.
Warren, however, said fewer than 3 percent of the nation's 11,954 federally regulated banks and credit unions are serving the cannabis industry.
Sam Kamin, a professor at the University of Denver Sturm College of Law who studies marijuana regulation, said there's only so much states can do on their own. "The stumbling block over and over again is the federal illegality," he said.
The federal government lumps marijuana into the same class of drugs as heroin, LSD and peyote. Democratic President Barack Obama's administration has essentially turned a blind eye to state laws legalizing the drug, and supporters of legalizing marijuana hope Republican President-elect Donald Trump will follow suit.
Trump officials did not respond to a request for comment. During the presidential campaign, Trump said states should be allowed to legalize marijuana and has expressed support for medicinal use. But he also has sounded more skeptical about recreational use, and his pick for attorney general, Alabama US Sen. Jeff Sessions, is a stern critic.
nz/hg (AP, Senator Elizabeth Warren website)