Almost completely obscured by the US election was the news that as part of their coalition negotiations to govern the city, Berlin's Social Democrats, the Greens and the Left Party want to partially allow marijuana use.
Various newspapers cited Green politician Benedikt Lux saying that the three parties had agreed to seek a "scientifically monitored pilot project for the controlled distribution of cannabis to adults."
That doesn't sound exactly like bong hits of White Widow or Train Wreck Sweet for all, but advocates say the initiative could be a step toward getting marijuana decriminalized. In the past, explains Max Plenert of the German Hemp Association, attempts by city districts to legalize pot have foundered on the Federal Intoxicants Law, which bans cannabis. Plenert thinks that the entire city, which is also one of Germany's 16 federal states, has far better chances for success.
"The legal code is decided at the federal level, and this is about a local attempt to try to do things differently," Plenert told DW. "The Intoxicants Law provides for such experiments. You can apply for exceptions, although the Minister of Health also has influence over the final decision. The state of Berlin has far broader possibilities than a city district in terms of setting up a pilot project. We can make a far more powerful appeal for an exception."
Leave it to Germany to translate the issue of whether people should be allowed to get high into a rather dry question of political procedure. Marijuana advocates argue that they're just trying to bring the law in line with reality, particularly in Berlin, a city where it's easy to buy cannabis and small-time dealing is rarely punished.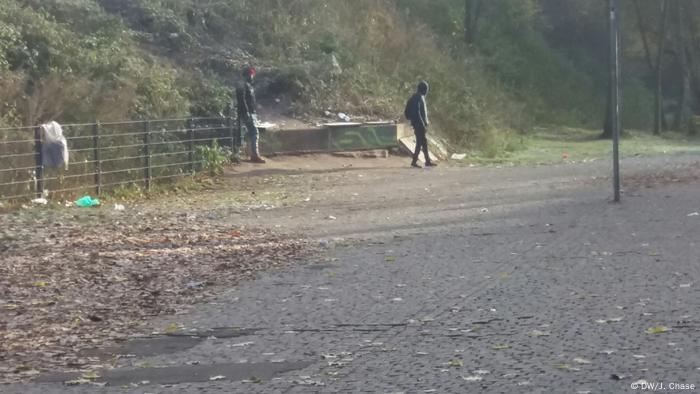 Görlitzer Park is a well-known spot for buying pot in Berlin
'I sell marijuana - I'm not a drug dealer'
It's a frosty Saturday morning, but despite the early hour, Görlitzer Park in Berlin's Kreuzberg district is already full of mostly African men standing around in small groups. Marijuana dealing is such an open secret that it mocks the very word.
Most local residents don't particularly object to the dealers, and a much ballyhooed "zero tolerance" policy by the authorities from 2015 ended last month with an internal document being leaked to the press, in which the police admitted that "there has still been no significant displacement of the dealer scene." The newspaper Berliner Zeitung interpreted that statement to mean that the police had "given up" on the park.
What do the dealers think of the pilot project? Do they see it as a threat to their livelihood? Understandably, these men are very wary of talking with the press, but one eventually tells DW that he has not heard of the pilot project and that there is no general sense of worry among the dealers.
Another - Bobby from Cameroon - opens up even further, saying that he would support the decriminalization of marijuana.
"I think it should be legalized," Bobby told DW, while puffing on a healthy sized joint. "Hey, we're Rastafarians from Africa. We smoke weed. We don't think it's a drug like cocaine. I sell marijuana. I'm not a drug dealer."
Plenert says that people like Bobby have no reason to fear being put out of their hardly enviable jobs any time soon, even if Berlin is allowed to authorize some sale of marijuana.
"This is a pilot project with limits," he says. "It's an attempt to advance the discussion about how things could be different. It won't have a massive effect on the market for drugs as a whole. But as with other pilot projects concerning drugs, it's a chance to show politicians and the press that the topic isn't such a big deal. And that could kick-start larger changes."
And to see what sort of changes might be possible, cannabis advocates need only look across the Atlantic.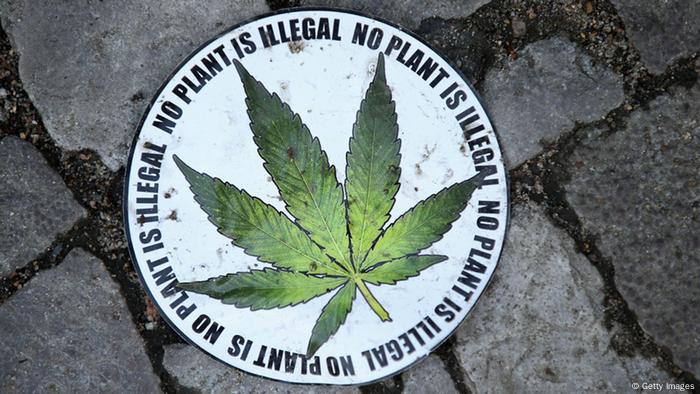 The legalization movement looks to the US for inspiration
America getting high again
Donald Trump's election victory overshadowed the news that on November 9 four US states, including California, legalized possession and recreational use of small amounts of marijuana. Cannabis is now fully legal in eight states and is more or less permitted in a few others.
This latest decriminalization movement began in 2012 when referenda passed in Colorado and Washington allowing people to smoke pot. Legalization advocates in Germany think that their country could follow in the same path.
"This creates pressure," Plenert says. "California, which alone would be one of the largest industrialized nations in the world, has just legalized marijuana. And the US is a good example because it all started with the idea of cannabis as medicine. People saw images from Colorado and realized that the sky wasn't falling in. Reporting on the topic became increasingly non-partisan, and the pressure (for legalization) rose."
Germany's federal states don't have the right to pass laws that would contravene the Federal Intoxication Law, but Plenert thinks that the example of America together with the experience of the local exceptions allowed under national law will eventually lead to a change in the way marijuana is treated.
"I think we've made enough progress in Germany to recognize that the status quo doesn't really work," he says. "And to say: If individual federal states want to experiment with something different, let's give it a try."
Perhaps Berlin's pilot project will help those who participate in it overcome the revulsion and anxiety most people in the German capital feel at the other results of America's Election Day.