US President Donald Trump announced that he and Japanese Prime Minister Shinzo Abe agreed after a talk that North Korea's missile program posed "a grave and growing direct threat."
"President Donald Trump spoke today with Prime Minister Shinzo Abe of Japan to address North Korea's launch of another intercontinental ballistic missile (ICBM). The two leaders agreed that North Korea poses a grave and growing direct threat to the United States, Japan, the Republic of Korea, and other countries near and far," a White House statement said.
"President Trump reaffirmed our ironclad commitment to defend Japan and the Republic of Korea from any attack, using the full range of United States capabilities," the statement continued, pledging renewed economic and diplomatic pressure on Pyongyang.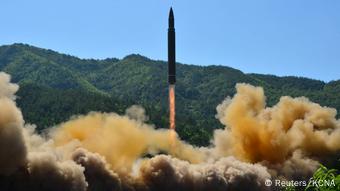 North Korea's most recent ICBM test suggests the country can now reach various parts of the US mainland with its missiles
Abe told reporters that repeated efforts by the international community to find a peaceful solution to the North Korean issue failed to stop Pyongyang's unilateral "escalation" of the crisis.
"International society, including Russia and China, need to take this seriously and increase pressure," Abe said, also adding that Japan and the United States would take steps towards concrete action. Abe did not give any details on what action needed to be taken, but his government ruled out military involvement.
South Korean President Moon Jae-in, who was on vacation, announced that he planned to have a phone call with Trump soon about the issue as well.
UN Ambassador Haley: US 'done' with North Korea
The announcement by Trump and Abe came shortly after the US Ambassador to the United Nations had said that Washington was "done talking about North Korea," adding that Japan and South Korea also needed to do more to keep the risk posed by the hermit kingdom at bay.
US envoy to the United Nations Nikki Haley stressed in a statement that China must decide if it is willing to back imposing stronger UN sanctions on North Korea over its most recent long-range missile test, the second conducted by the North this month.
Any additional UN Security Council resolution "that does not significantly increase the international pressure on North Korea is of no value," Haley said.
Read more: North Korea's war of words with the world
Chinese whispers
North Korea conducted another intercontinental ballistic missile test on July 29, proving its ability to strike the US mainland. The test drew sharp criticism not only from Trump but also from China.
Trump later wrote on Twitter, however, that he was "very disappointed" in China, stressing that while Beijing continued to profit from US trade it had done "nothing" for the United States with regard to North Korea.
Chinese Vice Commerce Minister Qian Keming said, however, that there was no link between the North Korea issue and China-US trade.
"We think the North Korea nuclear issue and China-US trade are issues that are in two completely different domains. They aren't related. They should not be discussed together," Qian was reported as saying.
Japan's Chief Cabinet Secretary Yoshihide Suga said that "the role that China can play" in the standoff was "extremely important."
Military exercise in response to North Korea
In response to North Korea's missile test, the US flew strategic B-1 bombers over the Korean Peninsula as part of a coordinated mission with South Korea and Japan on Saturday. The bombers took off from a US air base in Guam and were joined by Japanese and South Korean fighter jets during the exercise.
That exercise was followed on Sunday by a successful American test of a missile interception system, which the US hopes will be installed on the Korean Peninsula.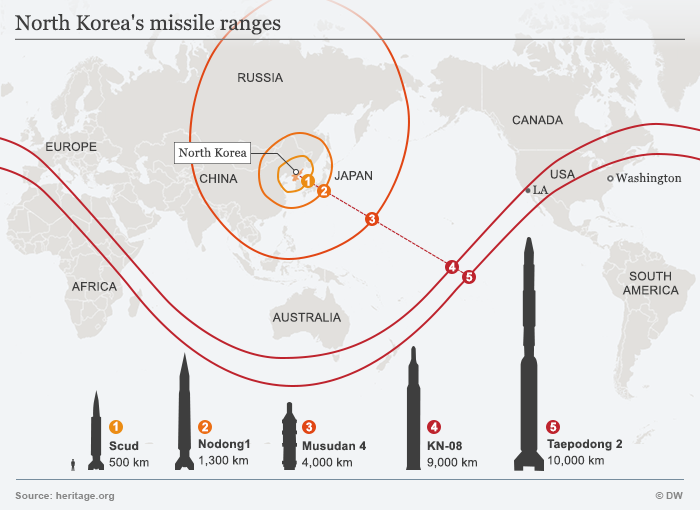 ss/rc (Reuters, AFP)