Colonel John Thomas, a spokesman for the US military Central Command announced on Friday that Abdurakhmon Uzbeki, who was believed to be from Uzbekistan, was killed during a ground assault near Mayadin, Syria, on April 6. The town on the Euphrates river near Deir Ezzor in eastern Syria, is in an area that is regularly targeted by coalition air strikes.
"It was a ground operation. I think that's all we're willing to say about that," Thomas said. The US military spokesman said that Uzbeki did not die in an airstrike. "We have clearly linked him with the New Year's Eve Istanbul bombing," Thomas added.
Thomas described the ground raid in Syria targeting Uzbeki "as an operation in order to eliminate him."
"We have a campaign against leaders of ISIS and a campaign against the leaders of al-Qaeda," said Thomas. "You can kind of look through the history of the strikes and I think we have a pretty good record of finding these folks and killing them."
Close associate of IS leader
Uzbeki was regarded as a close associate of IS leader Abu Bakr al-Baghdadi and was linked to the deadly attack on the Reina nightclub in Istanbul on New Year's Eve.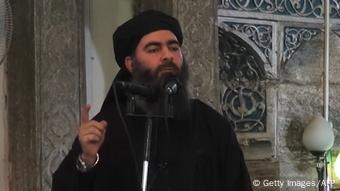 Abu Bakr al-Baghdadi, leader of the IS terror group
Brett McGurk, the US diplomat who coordinates the anti-IS coalition in Iraq and Syria, posted a tweet, confirming the jihadist's death "We will reach you anywhere," he wrote.
Istanbul night club attack
McGurk said Uzbeki had played a "key role in IS' external terror attack plotting, and ... facilitated the high profile attack, which murdered 39 people on New Year's Eve at a nightclub in Istanbul."
An Uzbeki national, Abdulkadir Masharipov, carried out the attack on the Istanbul night club. He fired on hundreds of people at the Reina nightclub, killing 39 and injuring many more.
Captured in a police raid in Istanbul two weeks later, Masharipov confessed to the attack according to Turkish authorities.
jm/bw (AFP, Reuters)