While not officially recognizing Kosovo as an independent state, US President George W. Bush said Monday that the Kosovars "are now independent" but added that US recognition would be guided by the UN-supported Ahtisaari plan.
"The Ahtisaari plan is our blueprint forward," Bush said when asked in an interview if Washington will officially recognize Kosovo as a country. But, Bush added, "The Kosovars are now independent. It's something I've advocated along with my government."
In Berlin, German Chancellor Angela Merkel said Germany would not take an immediate decision on recognizing Kosovo's independence but wait for the European Union to spell out its position.
"We will not take a decision today on recognizing Kosovo's independence. Ministers from the EU will meet today to put in place a platform that will allow each member to take a position on the declaration of independence," she told reporters in Berlin. "So taking a decision on recognition is not on the order of the day. The order of the day is first of all to answers questions of substance as to the EU's platform."
Germany had been expected to formally recognize Kosovo on Monday along with Britain, France, Italy and the United States.
Merkel added that Kosovo was an isolated case not comparable with that in other countries and she stressed that the future of both Kosovo and Serbia lay with the European Union.
"The whole situation in the Western Balkans can only be kept calm and peaceful from my point of view if we keep the European perspective as the perspective for the future for both Serbia and Kosovo," Merkel said.
Chancellor calls for protection of minorities
Merkel stressed that Kosovo and other countries in the region had to respect their minorities if they were to have a future in the European Union. "All must live with their minorities," she said, acknowledging difficulties that stretched back over centuries. Without a European future for the countries of the former Yugoslavia, she added, "the prospects for free democracy and securing economic development are much, much worse."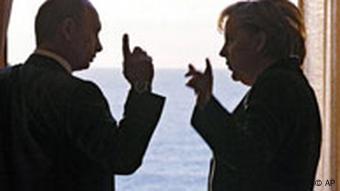 Merkel said the EU's relations with Russia were stable
Asked whether differences over Kosovo would hurt EU-Russian relations, Merkel said the Russian objections were of a principled nature and its attitude would not change. But she added that EU relations with Russia were "of a strategic nature and ... very stable."
"We should in as far as possible try to come to the best diplomatic conclusions," she said. "We have strategic relations with Russia that are capable of surviving differences of opinion because they are very stable."
EU foreign ministers were locked in a crisis meeting in Brussels Monday to discuss the response to Kosovo's split from Serbia on Sunday amid signs of intense behind-the-scenes wrangling over recognition of the new state. While some of the larger member states support the declaration, many others refuse to accept Kosovo's decision.
EU divisions exacerbated by separatist concerns
The already difficult situation of presenting a united front on Kosovo was made worse when Spain announced that the Socialist government will not give diplomatic recognition to the new state, and that Spain's conservative opposition had agreed with the government's position.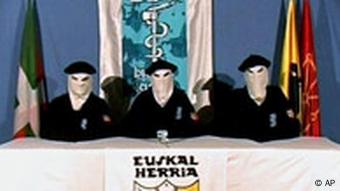 Spain fears action by ETA, the armed Basque separatists
Spain fears that the Serbian province's declaration of independence could inspire its Basque separatists to take a similar step.
These fears gained some credibility when it was revealed that the main opposition Bosnian Serb party had called for the independence of the Serb-run half of Bosnia Monday, citing Kosovo as a precedent.
"The Serb Democratic Party [SDS] is demanding Republika Srpska's institutions provide [Bosnian Serbs] the same rights being given to Kosovo Albanians," said the party, which was founded by war crimes fugitive Radovan Karadzic. "We expect the [Bosnian Serb] government to meet previous promises and check the will of Republika Srpska citizens in a referendum," the SDS said in a statement.
Since its 1992-1995 war, Bosnia has consisted of two entities, the Serb-run Republika Srpska [RS] and the Muslim-Croat Federation, each with their own government, parliament and police force.
The SDS was established in the early 1990s by Karadzic, who remains at large around 12 years after the UN war crimes tribunal charged him with genocide over the Srebrenica massacre and siege of Sarajevo.
Bosnian Serbs cite Kosovo as precedent
Many Bosnian Serbs feel that their entity should follow Kosovo's lead and be allowed to secede from Bosnia to be eventually attached to Serbia, which they see as their motherland. Some local politicians have hinted that the RS could try such a move.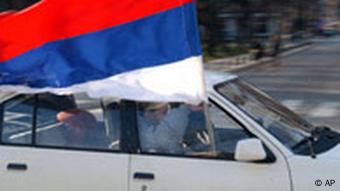 The protests in Banja Luka had xenophobic undertones
Meanwhile, up to 3,000 Bosnian Serbs gathered in Banja Luka to protest against Kosovo's independence. "Europe shame on you, world shame on you" and "Hashim murderer", the protestors chanted in a reference to Kosovo Prime Minister Hashim Thaci. They also chanted offensive slogans using derogatory terms for Albanians.
The protest, organized by students, started with a minute's silence, followed by another minute of hissing to voice disagreement with Kosovo's unilateral move. Banners in the crowd carried such slogans as "Europe respect international law," "Kosovo = RS," and "We don't give up Kosovo."
"We are disappointed with the fate of [Serbian] people in Kosovo and we will continue to support them," representative of students Dejan Kragulj told journalists.
"It's clear that Republika Srpska now has the right to secede from Bosnia," Zeljko, a 23-year-old student, told reporters.