The Afghan government on Sunday confirmed the deaths of several senior commanders from the so-called "Islamic State" (IS) jihadist group, including its leader in Afghanistan, Abdul Hasib.
That was followed by a separate confirmation from US forces in Afghanistan, who said that Hasib and "several other high-ranking" IS leaders were killed in the operation on April 27 in the eastern Nangarhar province, along with 35 other extremist fighters.
The deaths of Hasib and his associates would "significantly degrade ISIS-K (the name given to IS affiliates active in the Khorasan province) operations in Afghanistan and help reach our goal of destroying them in 2017," the US military said in a statement.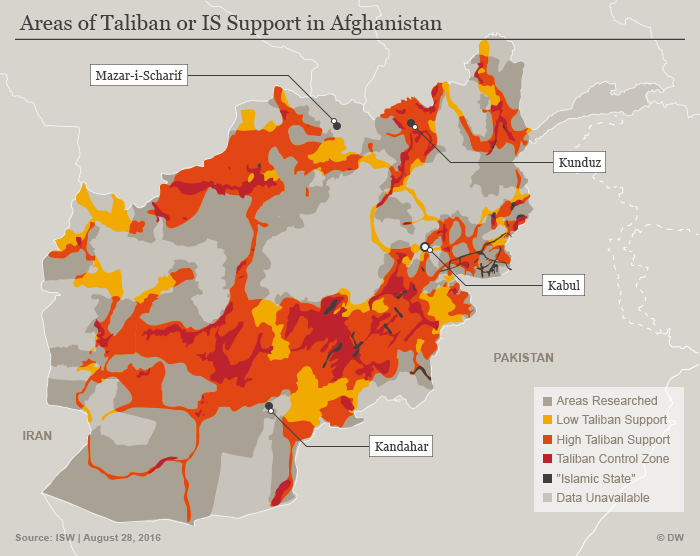 The commander of US forces in Afghanistan, General John Nicholson, said that the "successful joint operation is another important step in our relentless campaign" to wipe out the Islamist group. According to Pentagon estimates, around 1,000 IS fighters remain active in Afghanistan.
Afghanistan's embattled Nangarhar province
Afghan and US forces have been conducting special operations in Nangarhar, where two US soldiers were killed on April 26, just a day before the raid that killed Hasib.
Hasib is believed to have personally ordered an attack on a Kabul military hospital in March that killed 49 people and wounded a further 76.
Nicholson said that Hasib was the second IS leader to be killed in the last nine months, along with dozens of other commanders and hundreds of fighters. He also accused Hasib of having ordered the beheading of local elders and kidnapping women as brides for IS fighters.
"I applaud the tremendous skill and courage shown by our Afghan partners," Nicholson said. "This fight strengthens our resolve to rid Afghanistan of these terrorists and bring peace and stability to this great country."
US forces have been supporting Afghan commandos in recent months by conducting airstrikes on IS positions in Nangarhar province.
The compound in which Hasib was killed was located near the tunnel complex that was targeted by the US last month when it unleashed its so-called "Mother of all Bombs" - the biggest non-nuclear weapon ever used by the US in combat.
US set to step up Afghanistan presence
Next week, the Pentagon will ask the White House to send another 3,000 to 5,000 troops to Afghanistan to advise and train local military and police forces. If sanctioned, it would mark a shift in the US' Middle East policy, which has seen it steadily downsize troop numbers in Afghanistan since 2011.
The number of US troops currently stationed there number around 8,400, most of whom work in an advisory capacity. That's a far cry from the more than 100,000 troops stationed in Afghanistan six years ago. However, since US troops began pulling out in 2011, local forces have struggled to contain the Taliban and IS' unrelenting insurgencies.
dm/jm (AFP, dpa)