Usain Bolt has previous in London. The 2012 Games were the apex of his Olympic dominance, the mid-point on the spectacular arc that carried him from Beijing to Rio, his reign of supremacy on the world's biggest stage, during which he was untouchable for over a decade without even appearing to try.
The crowd here adores him, and ever the showman, Bolt knows how to play to the gallery. Regardless of where you're sat, you can't miss him appear on the track. Heads turn, flags wave, voices roar. The Olympic Stadium might not be the loudest place when West Ham United play their football matches, but a wall of noise lifts up in a heartbeat for the fastest man in the world.
He was last in action at the Diamond League meeting in Monaco on July 21st, winning the 100m in 9.95 seconds, his season's best. But his victory was never assured. Of course, he looked infinitely relaxed in the run-up to the event and unfazed beside the track, but he was sluggish out of the blocks and the race wasn't easy. He's not the athlete he once was and it's visible. Thirty years old is hardly past it, but it's not twenty either, and it shows – you can tell by his hairline, his beard, and of course his performance, that Bolt is past his prime.
Slow start in the heats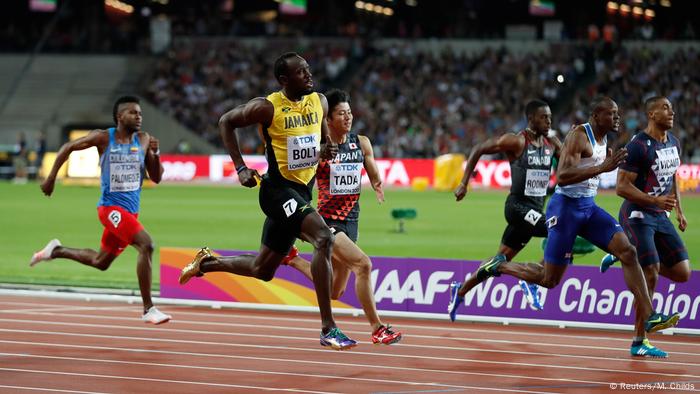 Bolt was beaten into second place in the semifinals by young American Christian Coleman.
The semifinal on Saturday evening was ominous. We're used to seeing Bolt start slowly, we know that he's not at his best in the first fifty meters, but we're also used to seeing him charge through half-way into the race as his engine ignites. The back-burner surge never materialized and he was beaten to the line by Christian Coleman. A knowing grin and a wry nod after the race said that Bolt would be back, knew what to expect, would turn it on in the final. But the frowns and grimaces that he'd worn while he was running, in the place of his usual ultra-cool empty expression, said that he was struggling.
Bolt was never easy to describe. It's difficult to convey just how incredible an athlete he was without melting into hyperbole or grasping for cliché. It's not any easier to talk about the greatest sprinter in history now that he's past his best. It seems absurd to say that he's a diminished figure, especially when the main piece of evidence is that he's visibly having to exert himself - as if anyone could charge down a track at his speed without exerting themselves. But it's never been like that before. The fact that this is an observation worth making, and it is, because he's always looked so effortless while achieving the most astounding feats, is testament to his phenomenon.
When the final came, it was a repeat of the heat. He had another unsatisfactory start. "My start," Bolt said after the race, "it's killing me." Usually, the initial leader in a race like this is there to do little more than wait for Bolt to fly past him at the halfway mark, but Coleman couldn't be caught. Bolt's final acceleration came belatedly and it wasn't the deliverance that we're used to. He lunged for the line still a neck behind Coleman, and then both of them were pipped to the post by the creeping wind in lane eight, the evening's pantomime villain, the anti-Bolt, Justin Gatlin. The crowd reacted with boos, Gatlin disappeared, and the bronze-medalist completed the lap of honor solo.
London special for Bolt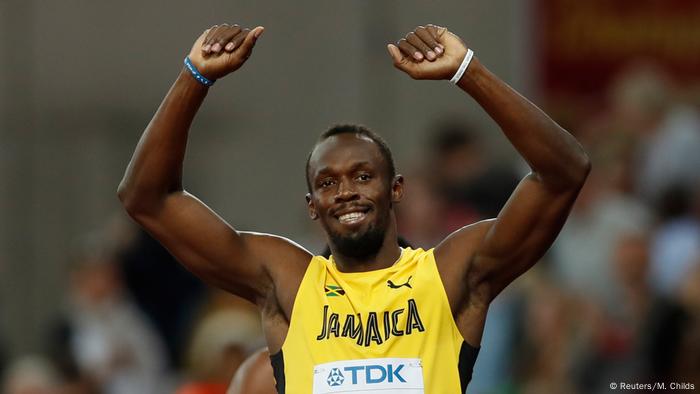 Bolt returned to the Olympic Stadium in London, the venue for his second Olympic gold in 2012.
When you see how Bolt is received in London, how the crowd dotes on him, the figure that he cuts on the track and the character he plays in the stadium, it really is hard not to feel that this is a special place for him. He was the man they came to see, and the fact that he only managed third didn't slow their celebrations or undermine their support one bit.
After the race, he thanked not just the spectators on the night but the British public for their "outstanding support". "I could never expect this from any other crowd," he said. "They really stand by me, really push me to do my best, and I really appreciate that." It's true that they're mad for Bolt here, and it's a pleasure to know that he knows it, a privilege to be part of a special relationship.
But it's not just London. Ever since he burst through the pack in the Olympic 100m final in 2008, smashing the world record even as he lifted his head and beat his chest in celebration with 20 meters left to run, Beijing has had a pretty strong claim on Bolt. Berlin, where a year after those Olympics, he set another two World Records at the World Championships in 2009, also has its own chapter in the annals. And it's fair to assume he probably remembers Rio, site of his final Olympic Games, where he completed his third hat-trick of medals, pretty fondly as well.
There have been countless other stops in his career, and every crowd he's ever performed in front of will always remember what they saw. London had the honor of being the final stage. But Bolt bows out before the world.