Pedro Sanchez, head of the Spanish Socialist Party (PSOE), has stepped down after the party's federal committee rejected his vision of the party's platform and proposal for yet another election.
His departure comes after months of internal division within the party, and could mean an end to Spain's political gridlock as the new Socialist leadership may be more willing to let acting Conservative Prime Minister Mariano Rajoy form a coalition government.
Sanchez announced his resignation after losing 132 to 107 in a vote among top party members on Saturday.
The opposition group led by his main rival, the head of the Andalusia region, Susana Diaz, has imposed her plan to organize a congress after a new government takes office in Spain. After Sanchez's resignation, a technical management team will now take control of PSOE and call for another federal committee to decide the party's course of action and the timeline to choose a new party leader.
Prior to Saturday's vote, Sanchez said he had called the meeting to settle the party's internal leadership differences and political stance regarding Rajoy's re-election. "I thought the party members should have had the chance to decide about that position," he said. Rajoy needs PSOE's abstention in order to form a coalition government, and Sanchez was adamantly against the idea.
Sanchez's resignation comes after a very tense week for PSOE. On Wednesday, 17 members of the 35-strong executive board resigned in a bid to force him out. However, a debate about protocol and whether Sanchez was still temporarily in power brought about scenes previously unheard of. The group maintained Sanchez's leadership was already over, while the executive board stopped some of the members who resigned from accessing the party's headquarters.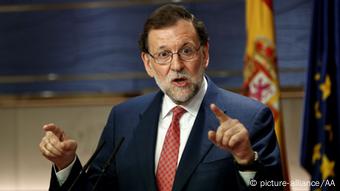 Rajoy's re-election is now much more likely
Good news for Rajoy
The public disagreement at PSOE's core has reduced the chances of a third round of elections. Antonio Barroso, senior vice president at Teneo Intelligence, told DW that "Rajoy's re-election is now much more likely." However, the analyst pointed out that the Socialists haven't decided their position yet, and that they may even ask for the Conservative leader's head in exchange for their abstention.
Rajoy needs at least 11 additional abstentions, or six extra votes in parliament, to secure a second term as prime minister. His party's feud with Catalan and Basque nationalist groups and the ideological differences with anti-austerity Podemos had turned PSOE into the kingmaker in Spain.
However, Rajoy's unpopularity and his party's implication in a number of major corruption cases had pushed Sanchez away from any approach to the Conservatives.
Last week, the Socialist leader hinted at a possible attempt to deal with Podemos and the Catalan pro-independence parties to form a government, but PSOE's conservative wing, including former Prime Minister Felipe Gonzalez, publicly opposed that option.
A favorable result in a third round of elections is now unthinkable for PSOE, so their strategy will now focus on avoiding the polls. Carlos Santos, a political journalist and analyst, said the country had witnessed PSOE's "suicide," adding that a third round of elections would cause unnecessary damage to an already broken party.
Santos told DW that the internal differences in PSOE are nothing new, but that they have been growing since former Prime Minister Jose Luis Rodriguez Zapatero made "decisions that his voters didn't understand."
Santos said there are many "small problems that have been adding up," including Spain's relationship with the EU, economic policy and territorial model.
"It was about time that something like this happened, but it has been an embarrassing sight," he said.
Uncertain future
Avoiding a third round of elections won't be the end of PSOE's woes, as allowing Rajoy and his conservative Popular Party (PP) to form a government will be unpopular, and will grant anti-austerity Podemos the leading opposition role.
Analysts and journalists immediately pointed at the similarities between the Spanish socialists and Greek social-democratic party PASOK, which dived into irrelevancy after losing the hegemony of Greece's left wing.
"PSOE's base members and voters won't take lightly that their party supports the Conservatives," said Santos. Podemos leaders Pablo Iglesias, Inigo Errejon and their ally Alberto Garzon from Green-communist party Izquierda Unida took to Twitter just minutes after Sanchez's resignation to emphasize that point.
Iglesias tweeted that "those who wanted to give the government to the PP have won," adding that his party will "remain against corruption and with the people."
Garzon went even further, saying that "PP has won the vote at PSOE's headquarters."