Ould Cheikh Ahmed told reporters in the Swiss city of Bern on Sunday that although the six days of peace talks between Yemen's government and Houthi rebels had ended without a breakthrough, "serious progress" had been made.
He said that both sides had agreed on a framework for negotiations and the establishment of a de-escalation committee, as well as a set of confidence-building measures.
The envoy however admitted "we are far from a ceasefire" despite the agreed truce that, like the talks, began on Tuesday, saying that some areas in Yemen had not seen any lull in fighting at all. He said he had asked both sides to prolong the ceasefire.
Confirming earlier reports, he said it had been "decided to hold the next round of talks on January 14" at a location that had yet to be fixed.
The current round reportedly stalled over issues regarding a prisoner exchange.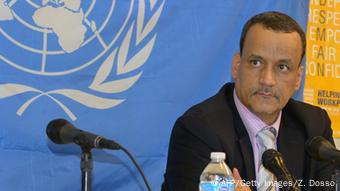 Ould Cheikh Ahmed said the focus now was on bolstering the current truce
Long-running insurgency
Yemen's conflict pits forces loyal to internationally recognized President Abd Rabu Mansour Hadi against Iran-backed Houthi rebels and fighters loyal to former President Ali Abdullah Saleh.
The UN, which sponsored this week's talks in the Swiss village of Macolin, says more than 5,800 people have been killed and 27,000 wounded since March, when a Saudi-led coalition began to launch air strikes on the rebels, which it sees as proxies for regional rival Iran.
The conflict has its roots in a Houthi insurgency that has been waged with fluctuating intensity since 2004.
tj/jlw (dpa, AFP, Reuters)