Canada on Wednesday legalized the recreational use of marijuana. While the move was welcomed by many, there was an immediate backlash from the United Nations body that monitors and supports governments' compliance with the three international drug control treaties.
The Vienna-based International Narcotics Control Board (INCB) said, "The legalization by Canada of cannabis for non-medical purposes is incompatible with the legal obligations incumbent on states parties under the international drug control framework."
INCB President Viroj Sumyai also said the body is "deeply concerned about the public health impact of these policy choices on the health and welfare of Canadians, particularly youth."
The organization also maintains that by moving forward with the legalization of cannabis for non-medical purposes in disregard of its legal obligations and diplomatic commitments, the government of Canada has contributed to weakening the international legal drug control framework and undermining the rules-based international order.
The board said it would remain engaged with the Canadian government and would examine the matter at its 123rd session scheduled to take place from 30 October to 16 November 2018.
Happy customers
While the UN drug board was unhappy, the opposite was true in Canada as jubilant customers stood in long lines outside shops.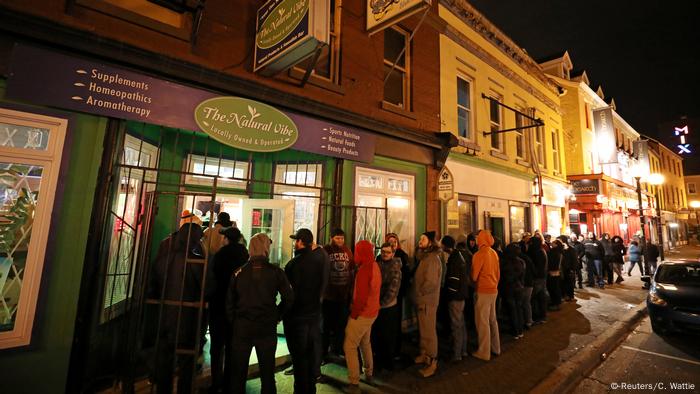 Newfoundland and Labrador were the first to sell cannabis.
Residents of the far-eastern province of Newfoundland and Labrador were the first to be able to legally buy marijuana as shops opened at the stroke of midnight.
Ian Power and Nikki Rose were the first to make historic inaugural purchases. "It's been my dream to be the first person to buy the first legal gram of cannabis in Canada, and here I finally am," Power told the broadcaster CBC, saying he wanted the stigma against marijuana to end.
The coming into force of the Cannabis Act makes Canada only the second nation after Uruguay to legalize the drug.
How well it goes could have an impact on Canada's next election in 2019, and on whether other countries follow in its footsteps.
Tory members of the government were not impressed.
"When people start to see the consequences (of legalization) they will blame Trudeau's failures for it," opposition Tory leader Andrew Scheer commented.
Under the new regulations, Canadians who are at least 18 or 19 years old (soon to be 21 in Quebec) will be allowed to buy up to 30 grams (1.06 ounces) of cannabis, and grow up to four plants at home.
Each evening at 1830 UTC, DW's editors send out a selection of the day's hard news and quality feature journalism. You can sign up to receive it directly here.