After meeting with Greek and Turkish Cypriot leaders in Cyprus on Monday, United Nations Secretary General Ban Ki-moon announced that the two sides had agreed to resume work on a peace deal.
"I'm encouraged that the two leaders personally assured me of their shared commitment for a comprehensive solution as early as possible," Ban said in a press conference at the United Nations compound in Nicosia.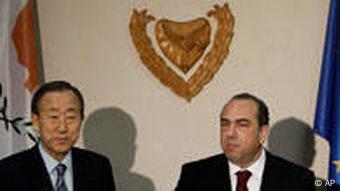 Ban Ki-moon is looking to re-energize slow-moving talks to reunify Cyprus
Ban met with Greek Cypriot leader Demetris Christofias and Turkish Cypriot leader Mehmet Ali Talet in an effort to inject some momentum into long-running talks between the two sides. The current goal is to unite the divided island as two federal zones under a central government.
The eastern Mediterranean island has been divided since 1974, with Greek Cypriots living on the southern portion and Turkish Cypriots to the north. The country split after Turkish troops invaded the northern part of the island in response to a coup spurred by people who advocated Cyprus' reunification with Greece.
Talks between Christofias, left, and Talat have been ongoing for more than a year
'A spirit of compromise'
Ban's visit to Cyprus follows a week of United Nations-led negotiations between Christofias and Ali Talet. Despite making progress in some areas, including how the island would be governed in the event of a peace agreement, the UN-led talks foundered when it came to the question of resolving property claims from thousands of internally displaced people, territorial lines, and other issues.
" We will need even more courage and determination in the period ahead to bring these talks to a successful conclusion," Ban said in a press conference alongside Christofias and Ali Talet.
Observers say the time to broker an agreement might be running out. A Turkish Cypriot hardliner who supports the formation of two separate states is leading in opinion polls ahead of the April 18 elections.

mz/svs/Reuters/dpa/AP/AFP
Editor: Sonia Phalnikar