At least 18,800 civilians have died in Iraq in 2015 according to a report released on Tuesday.
The UN Assistance Mission for Iraq (UNAMI) and the Office of the High Commissioner for Human Rights (OHCHR), who together compiled thereport, also stated that roughly 36,240 civilians have been wounded and 3.2 million more displaced.
"The violence suffered by civilians in Iraq remains staggering," the report said. It noted that half of the deaths occurred in Baghdad.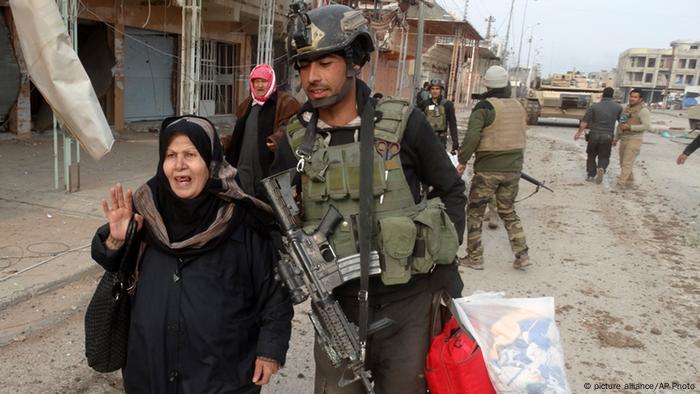 An Iraqi soldier accompanies a civilian after the retaking of Ramadi from IS
'Systematic and widespread violence'
The report put special emphasis on atrocities committed by the so-called "Islamic State" (IS), accusing the terrorist organization of targeting civilians, including dissidents, journalists, police officers and former officials.
The UN said the group "continues to commit systematic and widespread violence and abuse international human rights laws and humanitarian laws in acts which may, in some instances, amount to war crimes, crimes against humanity, and possibly genocide."
IS was also responsible for numerous public executions, which included death by shooting, beheading, bulldozing and burning alive.
UN Secretary-General for Iraq Jan Kubis reiterated the need to ensure the safety of civilians.
"I also call on the international community to enhance its support to the Government of Iraq's humanitarian, stabilization and reconstruction efforts in areas liberated from [IS]," Kubis said in a press release.