The motion to accept Prosecutor General Viktor Shokin's resignation was passed on Tuesday by 289 votes to six, just 13 months after having started the job.
His dismissal follows accusations that he failed to look into the reported theft of state funds by the former Russian-backed leadership of Viktor Yanukovych, who was deposed in February 2014.
Shokin's perceived unwillingness to clamp down on corruption and go after the lawmakers suspected of murky deals has caused public outcry and repeated calls for his resignation.
Critics allege that he even blocked investigations into prosecutors who were fired after being discovered hoarding cash and diamonds in their homes.
Economic Development Minister Aivaras Abromavicius, who has been outspoken about the role of corrupt elites in politics, said on Twitter after Shokin's dismissal: "Hallelujah! Finally!"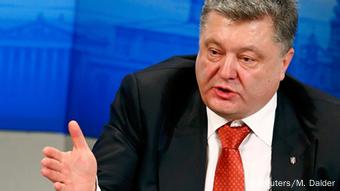 President Petro Poroshenko faces a major political crisis
New crisis unfolds
Shokin's failure to act also heaped pressure on President Petro Poroshenko, who vowed to tackle corruption when he was elected in May 2014 and whose popularity has plummeted for failing to fulfil the goals of the massive pro-Western protest movement earlier that year.
The US has repeatedly called for top-to-bottom reform of the general prosecutor's office, which anti-graft campaigners have said plays a key role in protecting vested interests and allowing corrupt practices to flourish.
One of Shokin's final acts in office on Tuesday was to fire his reformist deputy Davit Sakvarelidze - who had called for his boss's dismissal.
Last month, amid a growing political crisis, Poroshenko's ruling coalition lost its legislative majority in parliament, while Prime Minister Arseniy Yatsenyuk barely survived a parliamentary no-confidence vote.
Poroshenko's party has nominated parliament speaker Volodymyr Groysman to replace him and analysts said a deal was likely that would see Yatsenyuk step down on Tuesday to allow parliament to pick his successor.