The euro-skeptic UK Independence Party (UKIP) has won its second seat in the British House of Commons, according to vote tallies in the southeastern English constituency of Rochester and Strood.
The by-election was called after parliamentarian Mark Reckless (above, center) defected from Prime Minister David Cameron's Conservative Party to join the UKIP, which has seen recent electoral success by opposing immigration to the UK.
Reckless, won 16,867 votes, or just over 42 percent of the vote. Conservative candidate Kelly Tollhurst took 13,947 votes and Naushabah Khan of the Labour Party came in third with 6,713 votes. Turnout was slightly over 50 percent.
The defeat in the election constitutes an embarrassing setback for the Conservatives, who campaigned furiously to keep the once-safe Tory seat. Cameron had vowed to "throw everything" into the election fight.
The prime minister's party had already lost one seat to the UKIP for the constituency of Clacton following a defection, and there are fears that the victory for Reckless could trigger additional defections.
'Not supposed to win'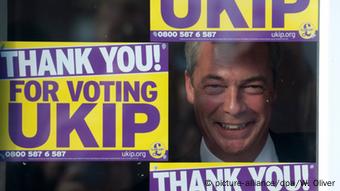 UKIP has seen electoral success by advocating strict immigration quotas
"UKIP was not supposed to win this by-election," said Matthew Goodwin, a professor of politics at Nottingham University. UKIP's victory in Clacton on October 9 was more predictable, Goodwin said, because it took place on "perfect territory" for UKIP.
"It is filled with the types of voters who have fuelled UKIP'S rise since 2010 - older, white, working-class and struggling voters who have few qualifications.
"But Rochester and Strood is a different matter, which is why the Tories were confident they would smash UKIP," Goodwin said.
UKIP, which wants strict quotas placed on immigration to the UK and to take Britain out of the European Union, has gained support from voters who say they are disillusioned with the mainstream political parties.
The success of UKIP highlights the threat it poses in splitting the vote of the Conservatives - and possibly Labour - just six months ahead of a general election. In an attempt to prevent an exodus to UKIP, Cameron has pledged a referendum on Britain's EU membership if his Conservatives win next year's election and has hardened his government's position on immigration.
bw/pfd (AFP, dpa)