British inventor Clive Sinclair, whose passion for technology made him a fortune and earned him a knighthood in the 1980s, has died following a long illness, his daughter Belinda told The Guardian daily and later the BBC on Thursday.
Sinclair was born in 1940 and started building gadgets as a child. He left school at 17 and worked as a technical journalist before starting his own company in 1961. In 1972, he launched a series of groundbreaking pocket calculators. The gadgets were a financial success and gathered praise for what was, at the time, a sleek, cutting-edge design.
But the inventor's personal golden age arrived in the early 1980s. Sinclair's home computer the ZX80 was designed to be cheap and accessible. Launched in 1980, it was also sold in kit form for customers who wanted to put the device together themselves. It was followed up by ZX81 and then ZX Spectrum 48K in 1982. The series rivaled the better known Commodore 64 in the early video game market.
Similar to other computer pioneers such as Steve Jobs and Bill Gates, Sinclair played a key role in bringing personal computers to people's homes. The computer boom also made him a millionaire.
In 1983, he was awarded a knighthood by Queen Elizabeth II.
'A true father' of the computer age
In the mid-1980s, however, Sinclair faced his first flop with an early electric vehicle dubbed the Sinclair C5. In 1986, the inventor sold his computer business to the now-defunct Amstrad.
Several of his later inventions, including a pocket TV and an electric motor that could be fitted to a pedal bicycle, also failed to sell.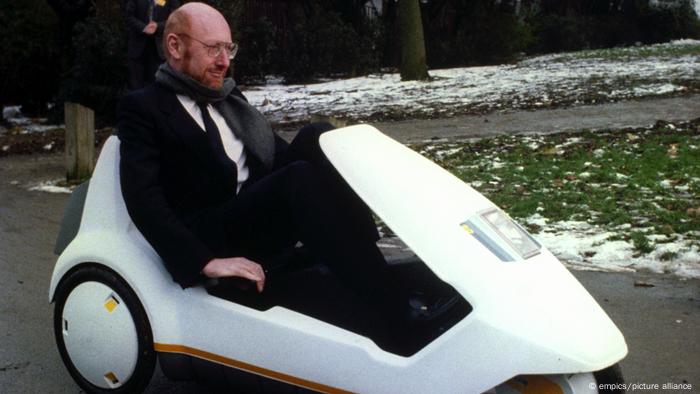 Sinclair admitted the 1985 launch of his electric vehicle, which could be powered by batteries or pedals, was botched — range, power, aesthetics and safety concerns were commonly cited as cause for public skepticism at the time
Sinclair continued to develop new gadgets into 2010s, as the world slowly embraced the dream of electric mobility.
"You cannot exaggerate Sir Clive Sinclair's influence on the world," gaming journalist and presenter Dominik Diamond said on Twitter. "And if we'd all stopped laughing long enough to buy a C5 he'd probably have saved the environment."
Hollywood screenwriter and video game developer Garry Whitta also praised Sinclair as "a true father of the modern computing age."
"I'm not sure I'd be where I am today were it not for his ZX Spectrum igniting my love of computers and games," said Whitta, whose credits include the popular video game franchise Gears of War.
In a 2013 interview, Sinclair told the BBC that he did not himself use computers.
"I don't like distraction," he explained. "If I had a computer, I'd start thinking I could change this, I could change that, and I don't want to. My wife very kindly looks after that for me."