Over the past few weeks, Brussel's City Hall has experienced unusually heavy protest - over a tree. The council's decision to swap its traditional pine tree on the city's central square with a modern art installation has resulted in a minor national scandal.
Online petitions have garnered twenty-five thousand signatures and a Facebook group with some 4,500 followers demanded the return of the traditional "Sapin de Bruxelles." Protests spread from the online petitions and social networks to debates on national television.
"We want to change the image of the Christmas market of Brussels. The image from ten years ago is very boring," said Brussels Councilor for Tourism Philippe Close. He says the "tree" was a daring move to give Christmas a modern spin.
Abies Electronicus
The 25-meter (82-foot) steel structure is called the Abies Electronicus, or electronic tree. At night, it's the centre of attention in a spectacle that lights up the whole central square at the Grand Place. Music blasts through speakers as the tree's many spotlights display flashy light effects in and around its base. In the daytime, visitors climb the stairs to an 25-meter-tall high balcony with an astonishing view on the city centre.
The juxtaposition of the Christmas tree against market square's old buildings is artistically interesting. Not everyone appreciates the new aesthetic, though.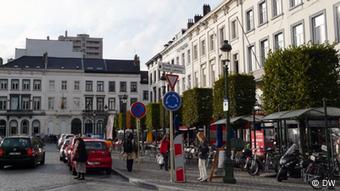 The Place du Luxembourg, Brussels is still 'traditional' this year
"What we got can hardly be called a Christmas tree," said Bianca Debaets, a representative of the Christian-Democrat party in Brussels and one of the first to openly criticize the city for its new tree. "It's a metal structure - no more, no less. On top of that, it is very cold and detached. Someone told me it lacks 'love,' and I think that's a good expression. The installation doesn't fit in with the mood that comes with Christmas, with all its intimacy."
Some of her sentiments were shared by guests at the city's Grand Place square.

"What I like about it is at night when you can't see all the scaffolding and horrible things surrounding it, but you only just see the lights of the tree. And when the light show goes on: that's cool," said one visitor. "But during the day, it's pretty horrifying to look at - it looks like it's just incomplete."
An anti-Christian conspiracy?
Beyond an aesthetic critique of the tree, however, politician Bianca Debaet's comments carried strong political and religious undertones. "I spoke out first of all because I don't think it's beautiful, and this opinion is shared by the majority of people in Brussels. But most of all, I feel we have to cherish tradition - the Christian tradition, but also other religions' traditions. We shouldn't ban it from the public sphere."
The insinuations of an anti-Christian conspiracy led to online rants about a supposed Muslim minority allegedly pressuring city hall into the decision.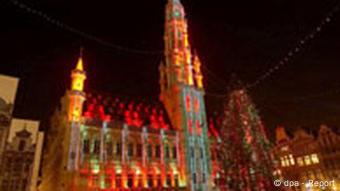 Many Belgians wouldn't mind reverting back to 2007's decorations
Muslim representatives soon spoke out on national television, saying they had no problem whatsoever with a pine tree, and in fact, many enjoyed visiting the Grand Place during Christmas time.
"It begins with one person who says we want to erase all the catholic symbols here in Brussels," said Councilor for Tourism Philippe Close. "But that's totally false. After that, people say it's because of the Muslims, but that's totally false, as well."
Some of the public debate has reached the councilor's ears.
"Next year, we'll come with a new light show, but with an original Christmas tree," he's resolved.