At Kiruddu Hospital in the southwest of Uganda's capital Kampala, dozens of people sit on the ground as they wait despondently outside the building. It's not much different inside the hospital, where patients and their families line the corridors in the hope of seeing medical staff despite a doctors' strike that started on Monday.
The Uganda Medical Association declared the national strike after the government failed to meet demands for higher pay and better conditions inside the country's public health facilities.
"We are being called greedy but I can guarantee you, doctors who want to make money are not in Uganda," Dr Ekwaro Obuku, the President of the Uganda Medical Association, told DW. "We are saying enough is enough. We need to fix [the system] beyond salaries."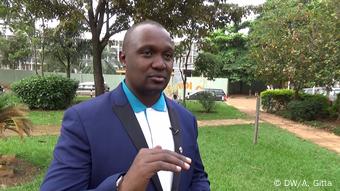 Dr Ekwaro Obuku, President of the Uganda Medical Association
An entry-level doctor in public healthcare in Uganda earns about 260 euros (1.1 million Ugandan shillings or $300) per month. The medical association wants to raise the base-level salary to 2,000 euro.
Doctors also say they lack basic necessities like gloves, disinfectant and painkillers.
"We are the ones, reminding the government of its constitutional obligation to provide the most basic care of the quality befitting a Ugandan," Obuku said.
The last such national strike by doctors was 20 years ago, although local strikes are frequent.
Patients stranded and suffering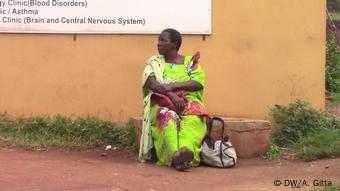 Diabetic Margret Nassuuna leaves the hospital without her medicine
Margret Nassuuna arrived at Kiruddu Hospital at 5 a.m. on Wednesday to stand in line to receive her diabetic medication – a trip she makes once a week. After four hours wait, she left with empty hands and no medicine at home to tide her over.
"We were told that the doctors still have issues to sort out so they advised us to listen to radios and come back when doctors resume work," the elderly woman said.
Those who can afford it are seeking out private hospitals, which aren't affected by the strike. But this isn't an option for many – not only because of the cost.
"The doctor told us on Monday that we should take patients home or to private hospitals because they weren't coming back to work," said a woman looking after a family member attached to an oxygen machine to help him breathe.
"But how do you start moving a patient in critical condition?" she asked despairingly.
An association representing patients is critical of the strike.
"We are extremely concerned that the doctors have preferred an industrial action over saving lives," Regina Kamoga, the chairperson of Uganda Alliance of Patients' Organisations, told New Vision, Uganda's biggest daily newspaper.
"There is need to urgently avert the impending death of the already vulnerable patients," she said.
Strike fueling government resentment
Joyce Moriku, Uganda's State Minister for Primary Health Care, told DW the government is aware it needs to make the public healthcare system better.
"We really have been going over and over to ensure that how best can we improve the working conditions in terms of equipment, in terms of medicine and supplies," Moriku said.
The government has said it is willing to raise doctors' salaries but they should be patient and await the outcome of a salary review commission. The commission, which was set up in October this year, is looking at the pay rates of all civil servants to address discrepancies between what some public officials earn compared to others.
Civil servants in Uganda have been complaining about low salaries for years – judges stayed away from courtrooms in August this year over similar demands for a pay raise.
The call for patience though isn't popular given that a few weeks ago, Museveni's government rewarded members of parliament with a one-off payment of 6,900 euros for holding consultations about abill to extend Musevani's rule.
Ugandan MPs are already paid around 5,100 euros per month.