UEFA President Michel Platini has been re-elected to serve a third four-year term after running unopposed for the top position in European football's governing body.
Platini, 59, was returned by acclamation by the 54-member federations as there was no other candidate. The Frenchman promised to run the continental federation with more democracy, stating "I know I can count on you. And you know that you can count on me."
Platini had earlier spoken at the governing body's annual meeting, warning of a return to the dark days of hooliganism unless public authorities in Europe help govern the game.
In his address, the Frenchman said there was a rising trend of "nationalism and extremism" being "observed in our stadiums". The three-time Ballon d'Or winner, who witnessed the Heysel Stadium tragedy in 1985 playing for Juventus, said recent incidents of violence eclipsed "certain images that I thought were a thing of the past."
2015 is not very old but there have already been a number of incidents involving fan violence in football. Greek government halted their top football league for one week last month after repeated crowd trouble and pitch invasions. The Greek Cup quarterfinal between AEK Athens and Olympiakos was called off because of a pitch invasion.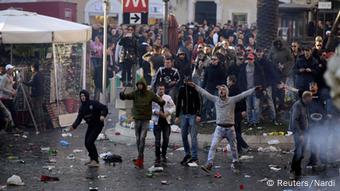 Feyenoord fans damaged many parts of Rome's city centre
Europa League games between Dutch side Feyenoord and Italian's Roma, as well as Ukraine's Dynamo Kiev and French team Guingamp, were disrupted last month due to fan violence, some even involving racism.
"In these battles that we are fighting, we feel as if we have been left to fend for ourselves somewhat. And yet, these are battles that can only be won with the help of the public authorities," Platini added in his speech.
Platini called for tougher European wide bans on known troublemakers in stadiums. "We need tougher stadium bans at European level and - I will say it again - the creation of a European sports police force," he said.
apc/jh (dpa, AFP)