The British boxer has vowed to put "the nightmare of the past two years" behind him as he seeks a comeback bout with reigning world heavyweight champion, and fellow Briton, Anthony Joshua.
"Next year I will be back doing what I do best, better than ever and ready to reclaim the world titles which are rightfully mine," he said after the announcement.
Fury's last fight, a stunning victory over Wladamir Klitscho to clinch the WBA, WBO and IBF heavyweight titles in November 2015, was his last before the UK Anti-Doping Agency found him guilty of doping in June 2016.
Read More: Germany's Charr wins heavyweight title
Fury contested the result, blaming the presence of a banned substance on eating uncastrated wild boar. The resulting legal battle has prevented the fighter from competing for over two years.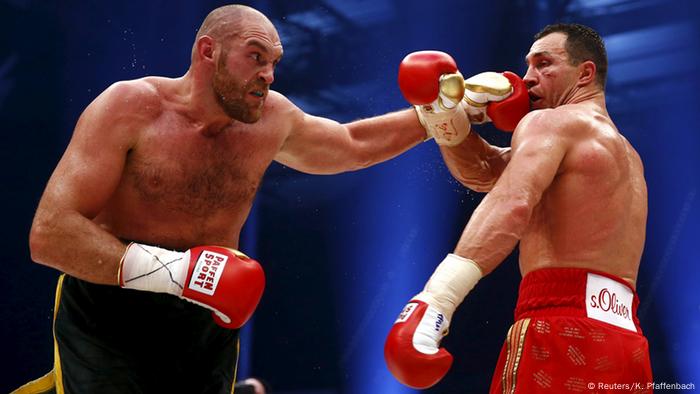 Fury takes on Wladimir Klitschko in his last fight back in November 2015
The 29-year old was reportedly earning roughly €5.7m per fight before the UKAD ruling. If the decision were to be overturned in court, the organization would be liable to cover loss of income, a figure likely to be far higher than its annual €9m budget.
It is believed that a fear of insolvency led senior figures to propose a compromise, with Fury accepting a two-year ban backdated to November 2015. The decision means Fury is free to reapply for his boxing license with imemdiate effect.
"In recognition of the respective counter-arguments and the risks inherent in the dispute resolution process, each side has accepted a compromise of its position," a statement released by UKAD read.
The boxer took to Twitter on Tuesday evening to share his delight, fanning the flames of a widely-rumoured comeback match against Anthony Joshua.
em/mp (Reuters/AFP)