Mainz versus Hanover was a clash between two Europa League aspirants, and in the first half there was little separating the two teams. Most of the decisive battles took place in midfield.
Mainz should have had a penalty after around a half an hour when Marcelo brought down Shinji Okazaki, but the referee's whistle stayed silent. Mainz were the better side, but Hanover almost grabbed the lead just before the break when striker Joselu drew a fine save from Mainz keeper Loris Karius.
The second half opened with an offensive flurry. Okazaki drew a promising free kick from 23 meters, but Johannes Geis couldn't find a way past Hanover's Ron-Robert Zieler. At the other end, Hiroski Kiyotake lashed a wicked shot on goal which Christoph Moritz had to clear off the line.
But whether it was the wet weather, or the disgruntlement of the football gods, neither team came close to scoring again.
Missed penalty in Freiburg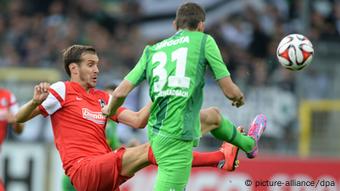 There were few highlights in Freiburg either
The weather was certainly not to blame in Freiburg, as the hosts and visitors Mönchengladbach played out a dull scoreless draw under perfectly sunny skies.
Both sides were forced to replace their long-time goalkeepers this summer, and perhaps that led them both to adopt a cautious, defensive approach, which yielded no clear chances in the first half.
Freiburg were the slightly more ambitious side - curiously since Gladbach were coming off a seven-goal win in the Europa League - and were rewarded with a penalty in minute 65. But striker Admir Mehmedi scooped it harmlessly over the crossbar. The Foals were ultterly insipid so that match, too, ended goalless.
The Bundesliga now takes a break for international matches. Play resumes in two weeks.