A special commission investigating performance-enhancing drug use in connection with the University of Freiburg, has found what it says is the first proof ever of systematic doping in professional German football.
According to a two page statement from the commission released Monday, anabolic steroids were used in the 1970s and 80s by Bundesliga club VfB Stuttgart and then second division side, SC Freiburg. The commission also says that doping was supported in an organized way by Germany's national cycling association, the BDR, between 1975 and approximately 1980.
The statement from the special commission is based on an in-depth investigation into the files of Dr. Armin Klümper, the former head of a sports medicine department at Freiburg university hospital, who was fined for fraud in 1989.
Allegations 'absurd' says former coach
Both VfB Stuttgart and SC Freiburg, now both play in Germany's top flight Bundesliga competition and were the former clubs of current German national team coach Joachim Löw during his active playing days.
On its club website, Stuttgart made a statement in response to the allegations, confirming that it hadn't yet seen the report. The club also confirmed that Dr. Klümper was at no stage team doctor at the club.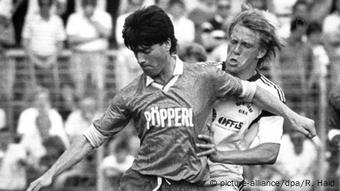 Current Germany coach Joachim Löw playing at Freiburg back in 1989
Former Stuttgart coach Hans-Jürgen Sundermann, who coached the club between 1976 and 1979 and again from 1980 to 1982, said he didn't believe the accusations though.
"That is absurd," said the former Stuttgart coach to German news agency SID, when asked about the doping allegations. "I can't imagine that at all and I think you can completely rule it out."
The Stuttgart club which, according to the commission, was engaged in more extensive doping than their nearby Freiburg counterparts, won the Bundesliga title in 1984.
DFB responds
The chairman of the anti-doping commission at the German Football Association (DFB) Rainer Koch said on Monday that he wants more explanation.
"These are big accusations, and they obviously have to be investigated in depth," Koch said.
"In order to really understand what is being said here, we need to look at the detailed report," he added.
Löw himself has not yet made a comment on the accusations. Germany's World Cup winning coach played at Freiburg at three separate stages between 1978 and 1989, and spent a short time at Stuttgart too, between 1980 and 1981.
al/asz (dpa, SID)