Berlin's Olympic Stadium rarely attracts as many soccer fans as the 65,000 expected for Hertha's UEFA Cup Group B match on Wednesday, Dec. 3. Unfortunately, for the home side, many could be wearing the red and orange of Galatasary rather than Hertha blue.
An estimated 200,000 people of Turkish background live in the German capital, and as many as a fifth of them could turn out to watch the most successful team in Turkish football take on Hertha.
Local soccer fanatics such as Celal Bingoel, the boss of fourth-division side Tuerkiyemspor, admit to having mixed feelings but say the game should be a great party -- much as when Germany and Turkey met in this summer's European Championships.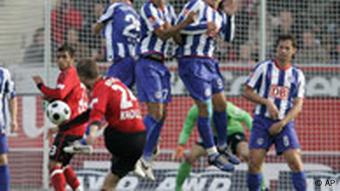 Hertha have risen up the Bundesliga table in recent weeks
"It was great seeing Turks and Germans holding up each others' national colors," Bingoel told the daily Bild newspaper. "I thought: If I died right now, I'd be happy."
But Bingoel said he's hoping for a home win.
"It's a shame that Gala haven't already qualified [for the next round]," Bingoel told Bild. "But my heart beats for Hertha."
Hertha's commercial manager Dieter Hoeness said he's really looking forward to the match.
"This is a high point of the season," Hoeness told the sid news agency. "We're hoping to be successful in a sporting sense and take the opportunity to have a big celebration with our Turkish fellow citizens."
Amidst all the lovey-dovey multicultural noises, it's easy to forget that there's a soccer match on -- one with major implications for the two clubs concerned.
Revenge for 1999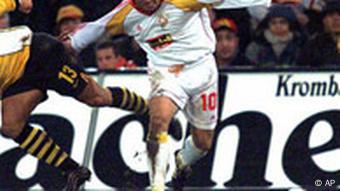 Gala won the UEFA Cup in 2000
Perennially underachieving Hertha are a surprising third in the Bundesliga after a number of close wins. But they've yet to score a victory in the UEFA Cup group stage and need three points, if they want to progress.
Galatasaray are a disappointing fourth in the Turkish Super Lig. But the squad features some familiar names such as striker Milan Baros and has already collected two wins in Group B.
Still, Hertha is confident.
"We know that we're perfectly capable of beating Galatarasay," Berlin coach Lucien Favre said in the run-up to the match.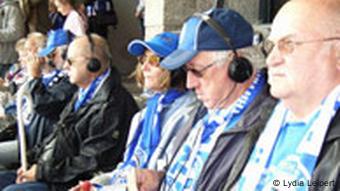 Normally the Olympic Stadium is awash in blue and white
And the players don't think a possible away-game atmosphere in their home stadium will affect their performance on the pitch.
"So what?" Hertha midfielder Pal Dardai said. "We played well in this season's away matches as well."
History is on the side of the Turks. In the 1999 Champions League, the two teams' most prominent meeting, Galatasay hammered Hertha 4-1 in Berlin.
On Wednesday, the hosts will have a chance to avenge that loss -- while supporters of both sides get all brotherly in the stands.