According to The Turkish Journalists Association, last year 780 journalists had their officials press credentials revoked, charges were brought against 839 journalists for their articles, and 189 media workers were verbally and physically attacked.
Records from The Platform for Solidarity with Imprisoned Journalists and The Turkish Journalists' Association show that the number of imprisoned journalists is over 140. While it's believed that one out of every four journalists is already unemployed, increased political pressure on the media is also leading to an even more uncontrollable environment of self-censorship.
On Working Journalists Day, three journalists in Turkey spoke to DW on how they're not able to work.
Ünsal Ünlü : Trying to hold on through social media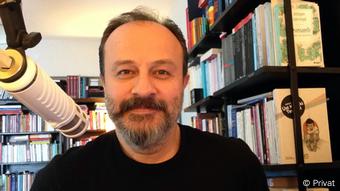 Ünsal Ünlü's story resonates with many journalists in Turkey today
Ünsal Ünlü started working as a journalist in 1989 at TRT. Until leaving the mainstream media in 2013 he worked at many media outlets, including the news channel NTV for many years.
The experienced journalist says he felt intense political pressure for the first time in 2009 while he was NTV's Ankara representative. Now he's continuing his struggle for impartial journalism through Periscope, a live stream site, and its growing popularity. Unlu has 20,000 followers on average. However, this number increases to 30,000 on some days with the addition of channels like YouTube, SoundCloud and iTunes.
"News managers and editors are under unwilling internal censorship," says Unlu. He also believes that ideological restrictions have taken on a whole new form with self-censorship. However, even though he has been broadcasting from his own home, he still isn't free from political pressure.
"Even though it's not directly, there's still political pressure through the trolls," he says, alluding to the social media users supporting the government actively and aggressively and who the opposition claims are on the government's payroll.
"In every broadcast, I have to deal with around 20 trolls. They don't want to have a discussion; all they want to say is I am wrong. The discussion culture is fading away and this is a big problem."
The experienced journalist who is married with two children now tries to make a living with voice-overs and dubbing. "I try to fight by saying 'It is still possible to be a journalist in Turkey, we can open up alternative fields,' but I can't fund this enterprise through journalism." However, despite all this, Unlu still hasn't lost hope for a more democratic country.
Volkan Koc: The first journalist to report the coup attempt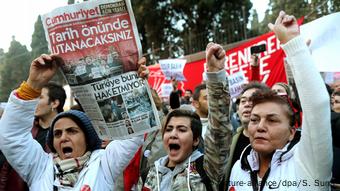 Demonstrators protested against the arrest of the Cümhuriyet editor-in-chief last November
Volkan Koc's name will be remembered as the first journalist to report the coup attempt. He started his journalism career in 2009 as a crime reporter at the newspaper, Taraf, and quickly realized that there was no such thing as impartial journalism in Turkey.
After Taraf, Koc went on to work at the T24 news portal, Vatan newspaper and Aksam newspaper's internet page as a reporter and editor. He concluded his career in journalism at a news portal called Haberdar. Koc says he was alienated from journalism during the coup attempt. Known as the first person to report on the coup attempt, Koc described his experiences that night.
"We were the first ones to report on the July 15 coup attempt with my byline. Immediately, I was targeted on Twitter. They said things like, 'It's 2016, how can there be a coup, you're a member of FETO' [Gülen movement]. It was a lynching. And when the prime minister finally announced that it was a coup attempt, they started saying 'How did you know, you knew beforehand, you are a member of FETO'. But while going home on the bus, I saw that the military had barricaded the roads around Beylerbeyi. I thought maybe there was a terror threat to President Erdogan's office in that area. But then a soldier said that martial law was declared and that everyone should go home. We reported this as breaking news with the night editor without informing anyone."
More than 40 journalists were detained after the preliminary investigation into the coup attempt and Koc was one of them. He believes that the unsung journalists, who were arrested during this time, were left in the lurch by their unions and colleagues.
Now Koc runs a second hand bookstore in Kadikoy and he seems happy with his life. "I'm living a peaceful life. The people that come to shop aren't manipulative, or selfish. They only come for intellectual enlightenment. It's so much better this way."
Nilay Ornek: Fired after Gezi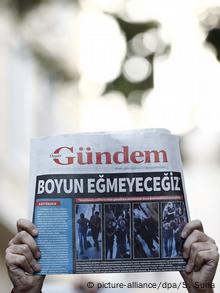 The front page headline of Gündem reads: We will not bow
"During the Gezi protests I was in charge of the weekend section of the Aksam newspaper that was recently seized by the Savings Deposit Insurance Fund. Of course, I had taken part in the Gezi protests. I never hid or deleted any of my social media posts either," says Nilay Ornek.
Afterwards, a smear campaign was started against many journalists on social media, including Ornek, an experienced journalist who started her profession at the age of 17 with great enthusiasm. Then, she became one of the first journalists to lose her job because of the Gezi protests. Later, she was put in charge of Vatan newspaper's internet service, but it wasn't long before she was fired because of her ties to Gezi.
All her experiences so far have taught Ornek to be ready for anything as a journalist in Turkey.
Ornek says that everyone is using big words to save the country, problems should be addressed first. Ornek wants to continue writing her human interest stories, but because politics has spread to every aspect of life, she's worried about being hounded by political pressure.
"We face a very big danger. Not only people that oppose the government aggressively are seen as a threat; everyone that says 'don't intervene in our way of life' is seen as a threat as well."
Ornek stresses that while she hasn't lost all hope, she's decided to be more flexible about job possibilities in order to make a living.
"Last year, just to make money, I worked as a copywriter. I'm a positive person. I always try to be positive, but I'm worn out."