"We are a Muslim country. That is why we need a religious constitution," Kahraman, who belongs to President Recep Tayyip Erdogan's AKP party, said on Tuesday. He was speaking at a conference with academics and authors from Islamic countries in Istanbul.
Lamenting the fact that, unlike in other Middle Eastern countries, the word Allah did not appear in the current version of the Turkish Constitution even once, the AKP politician also pointed out that the country's current constitution was not secular: There were many religious holidays and lessons for students that the document prescribed for Turkey's citizens.
"Why should we, as a Muslim country, distance ourselves from religion?" Kahraman asked. He said that the French and Irish Constitutions were the only ones that used the word "secularism" other than Turkey, but that each country interpreted the word as it liked.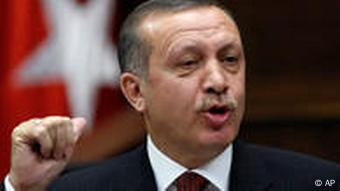 Erdogan's preferred constitution will be the one that increases his powers as president
AKP distances itself
The ruling party, AKP, distanced itself from Kahraman's statements. Mustafa Sentop, the head of the AKP's constitutional committee in parliament, said the speaker was not speaking "on behalf of any party."
There were also reports of protests in front of the parliament in Ankara. Turkish reporter network 140 Journos posted this video on Twitter:
Calls for a new constitution
Opposition leader Kemal Kilicdaroglu of the CHP condemned Kahraman's statement, saying that secularism as introduced by the nation's founder, Kemal Atatürk, was of utmost importance to ensure religious freedom. "The chaos in the Middle East is the result of politics instrumentalizing religion," German website "Der Spiegel" reported Kilicdaroglu as saying.
Turkey is currently a secular state with a clear differentiation between religion and state, and the freedom of religion and culture. The current document, implemented after a military coup in 1980, is different from the original constitution written after Kemal Atatürk established the Republic of Turkey, but it still encompasses the secular values from the original version.
There have been many calls to introduce a new constitution, with widely varying opinions on what it should look like. Activists want the new version to include more protections for human rights and Kurdish groups have demanded more autonomy for their people. But President Erdogan's aim has been to amend the charter and increase his powers as the head of state.
Erdogan's AKP has 317 of the 550 seats in the Turkish parliament and would need 330 votes to submit a draft version of the constitution for a referendum. This means it would have to get the support of lawmakers from other parties to successfully change the document.
Turkey is currently negotiating to be a member of the European Union and is the bloc's biggest partner in an agreement to take back migrants traveling from Syria to Europe.