As Turkey's foreign minister, Prime Minister Ahmet Davutoglu tried to persuade the Assad government to implement political reforms in the wake of unrest in Syria in March 2011. But when Davutoglu's calls went unheeded, Ankara became an uncompromising opponent. The Turkish government was sure that the Syrian leader would soon be toppled. In August 2012, Davutoglu figured that Assad had would only remain in power for a matter of weeks.
'It's a disaster'
But he was wrong. After four years of civil war, no one is predicting a speedy demise of Assad's regime. Moderate opposition forces such as the Free Syrian Army (FAS) are increasingly on the defensive, having to fend off not just Assad's government troops, but also the ever stronger Islamist militia, in particular, Islamic State. IS has control over large parts of Syria and Iraq, and is becoming a threat to Turkey as well. At the same time, an autonomous Kurdish region has been created in northern Syria along the Turkish border. Around 2 million Syrians have fled to Turkey.
Turkey's plans to play the regional powerhouse in the Syria conflict have been dashed in the face of growing chaos in its neighboring country. "It's a disaster," Osman Nuri Özalp, political scientist at the German-Turkish University in Istanbul told DW. Turkey has forfeited much of its influence in Syria and the Middle East, he said.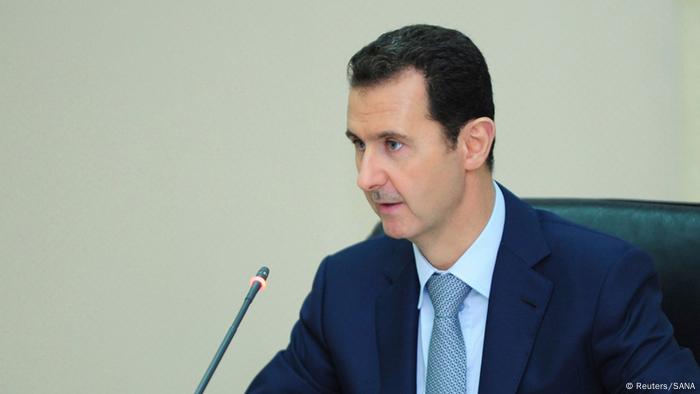 Turkey has long desired the downfall of the Assad regime
Constants in Turkey's policy on Syria
Overthrowing Assad remains the primary goal for Turkey in Syria. Davutoglu recently stressed that the Syrian government will be called to account for the "massacre of its own people that it has committed over the past four years." Turkey has also continued its open door policy with regard to Syrian refugees, even though the large number of refugees in Turkish cities along the border is now creating social problems.
The third constant in Turkey's Syria policy is support for the Syrian opposition. The National Syrian Coalition, an umbrella organization for all moderate Assad opponents, meets regularly in Istanbul. Observers such as former US ambassador to Ankara, Francis Ricciardone, accuse Ankara of having supported radical Islamist groups in Syria. Turkey was convinced that it could work with these militias, Ricciardone said last year. The Turkish border area with Syria was always open to extremists, he said. Ankara denies any such policy.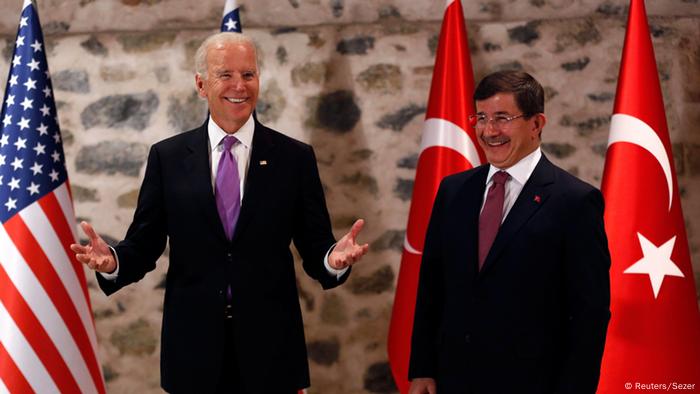 Currenty good friends, US Vice President Joe Biden and Turkish Prime Minister Ahmet Davutoglu
Finding a way out
Despite the many problems with its past Syria strategy, the Turkish government has shied away from any radical change of course, said Serhat Erkman, Middle East expert at the Ahi Evran University in the central Anatolian city of Kirsehir. He told DW that Ankara views a reboot of its Syrian policy ­– which has long become the subject of an inner-political dispute – as risky, since the opposition would see it as an admission of failure.
To strengthen its own position, Turkey has recently been leaning more toward the United States. Ankara and Washington have been working together to train new Syrian opposition troops. There's even speculation currently over whether Turkey will actively take part in an expected offensive by Iraqi government troops and Western allies against IS in the northern Iraqi city of Mosul. However, until now, it has not proved possible to settle fundamental differences with the US. According to press reports, Washington ­– unlike Turkey – doesn't see removing Assad from power as a prerequisite for a solution in Syria. Erkmen said that it will become clear in the following months whether Ankara is open to rethinking its position; any key changes to its policy will only be possible after parliamentary elections set for June.