Turkey has recalled its ambassador to Austria amid a growing spat between the two countries, state-run "Anatolia News Agency" reported on Monday.
Turkish Foreign Minister Mevlut Cavusoglu (pictured) accused Austria at a press conference of being a center of racism and Islamophobia that supports Kurdish terrorist groups, adding Turkey would "review its relations" with Austria.
"Unfortunately, the foundation for our bilateral relations and cooperation to continue as normal has disappeared," Cavusoglu said.
Turkey also summoned the Austrian charge d'affaires to the foreign ministry in Ankara.
The two countries have been in a tit-for-tat dispute in the weeks following the failed coup attempt in Turkey last month.
In the wake of the coup, senior Austrian officials have criticized the state of democracy and massive purges in Turkey , while saying Turkey's EU accession should be halted.
In Ankara, such statements have been interpreted as a lack of support for a democratically elected government.
"During the coup and afterward, instead of supporting Turkey they have done the exact opposite," Cavusoglu said.
Cavusoglu also slammed a prohibition on pro-democracy protests by Turks in Austria, noting that authorities had allowed pro-Kurdish demonstrations against Turkey.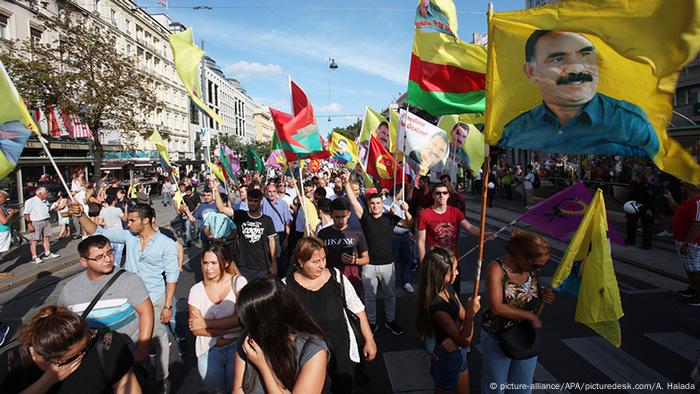 Kurdish protestors rallied on Saturday in Vienna calling for freedom for imprisoned PKK leader Abdullah Ocalan.
There have been a number of recent demonstrations in Vienna organized by Kurdish organizations against Turkey, which have led to clashes with Turkish nationalists.
Turkey says the protests are organized by Kurdistan Workers' Party (PKK) supporters, which the EU and Turkey considers a terrorist organization.
Another row was sparked recently when a news ticker headline at the Vienna airport said Turkey allowed sex with children under the age of 15, a claim Ankara strongly denied. That prompted Turkey to summon the Austrian charge d'affaires to the foreign ministry.