Turkey on Thursday temporarily suspended the sale of fertilizers containing ammonium nitrate after a series of bomb attacks across the country.
"As of now, the sale of fertilizers containing nitrate that are used for explosives has been frozen in Turkey," said Turkish Agriculture Minister Faruk Celik.
The minister added that authorities confiscated 64,000 tons of fertilizers containing nitrate from retailers.
The NATO member has witnessed a surge in violence across the country since a fragile peace process with Kurdish rebels unraveled in 2015 and the "Islamic State" militant group staged attacks in the country.
An Interior Ministry official said authorities have strong evidence that the Kurdistan Workers' Party (PKK) detonated a car bomb in Istanbul on Tuesday, which left 11 dead, including six police officers, and over 30 wounded.
In the southeastern town of Midyat, a PKK-claimed car bomb killed three police officers and three civilians at a police station. The assailants used half a ton of explosives in the attacks, according to local news reports.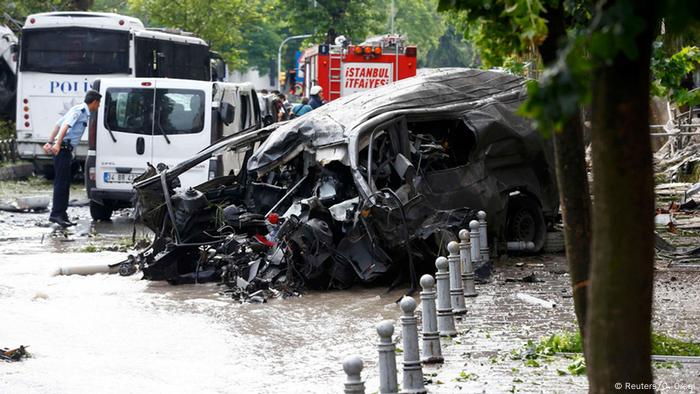 A group has yet to claim Tuesday's attack in Istanbul, although authorities believe Kurdish militants were involved
The cost
The fertilizer producer Bandirma Gubre Fabrikalari (BAGFAS) said in a statement to the Turkish stock exchange that it suspended its production of fertilizers that contained nitrate.
According to BAGFAS' annual report, the company produced nearly half a million tons of chemical fertilizers.
The company's shares fell 3 percent following the announcement, while fertilizer producer Gubretas' shares fell nearly 4.5 percent.
ls/kms (Reuters, AP)